FUTURE CITIES | Dubai
Can a Sheikh's determination save the Middle East's pleasure dome from a second-place finish?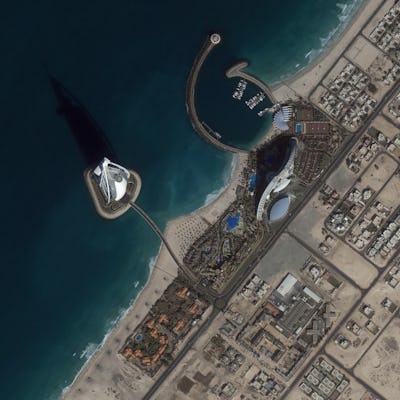 Burj Dubai
Wherever you stand in Dubai, the top of the Burj Khalifa is in your sightline. The world's tallest skyscraper became a symbol of the emirate's rapid emergence as a global hub for wealth when it was topped-off in 2010 and it will likely continue to tower over everything else in the city in 2020. But it will have to relinquish its superlative that year if the Jeddah Tower is completed on time in Saudi Arabia. At that point, it will cease to be a triumphalist monument and become a reminder that ostentatiousness doesn't age well.
That's not to say that Dubai will revert to the quiet fishing settlement it was just six decades ago. The exact opposite is going to happen. The country's ruler, Sheikh Mohammed Bin Rashid Al Maktoum, is devoting himself to the task of building the world's most cutting-edge metropolis. Within the context of the innovations he's incubating at Dubai Future Accelerators, which launched with $270 million in funding last October, a very tall tower won't seem like much to look at. Megastructures are impressive, but they won't help the Sheikh convince the world that Dubai — not Vancouver or Singapore — can best model true modernity to the world.
The DFA is housed within the world's first totally 3D-printed building. This "Office of the Future" is the result of a partnership between the Dubai Future Foundation, which runs the accelerator's program, and Chinese 3D printing firm WinSun. A printer the height of a two-story house constructed the facility, one layer of cement at a time, over just 17 days. But this feat comes more from necessity than novelty. If the city is to maintain its relentless construction boom and achieve its goal of 3D printing 25 percent of new buildings by 2030, this technique needs to reach maturity fast.
"At a 3D printing site, there is no waste, dust or noise. Dubai's extremely hot climate makes it nearly impossible for human beings to work outdoors," explains Sophie Wu, department manager for the Middle East at WinSun. "Now, the Dubai government can save time and labor costs, while establishing the city as a leader in sustainable construction."
But projecting a futuristic image is about more than erecting buildings that look like they belong inside Jony Ive's brain. With global urban migration reaching fever pitch, developing transport solutions fit for the 21st century is high on the agenda for cities everywhere. Fortunately for Dubai, the cash on offer through the future accelerators program was enough to attract America's most hyped supersonic transit firm.
Working with governments throughout the region, Hyperloop One is working to connect Dubai and Abu Dhabi via levitating pods that travel at speeds of 700 miles per hour. "Hyperloop will [better] connect the UAE by shrinking distances and time," says Rob Lloyd, CEO of Hyperloop One. "In doing so, it will help to create high quality jobs and tech clusters similar to the Silicon Valley effect, as [the country] builds hardware and develops a local supplier network."
If the project succeeds, the journey time between the two cities will be reduced to just 12 minutes – a respectable improvement on the current 90-minute train ride. The exact details are still being hammered out inside the Office of the Future, but if flashy videos are any indication, tourists and Emiratis should expect to be sucked through intercity tubes at the height of luxury.
State-of-the-art transport pods and offices thrown up in less than three weeks are luxuries many cities can only dream of. But in a location where Uber provides a helicopter option, it's unsurprising that innovation is driven by status as much as it is by necessity. The Sheikh is determined to safeguard Dubai's title as a beacon of the future, even if that future comes with a significant price tag.
The risk is that the Sheikh's inevitable accomplishments could and likely will be eclipsed by projects elsewhere in the world. The Hyperloop track could become the second fastest public transport project on the planet. The 3D printed homes might represent the second highest percentage of 3D printed domiciles on Earth. The only way to guarantee long-term status as the best or fastest or tallest or 3D Printed-est is to diversify. The Sheikh is doing that and so success will likely be in aggregate — in the coincidence of myriad breakthroughs and the connections of new technologies.
It's only possible to be the forefront at any one thing for so long, but once you're first, you're first forever. Dubai will be first forever on a lot of technologies. Whether or not that will create a virtuous cycle of innovation or logistical nightmares is hard to guess. That's the thing about building something out rather than up: It's complicated.