Google News Stories Are About to Look a Lot More Like Snapchat
Google calls it "a visual-driven format for evolving news consumption on mobile."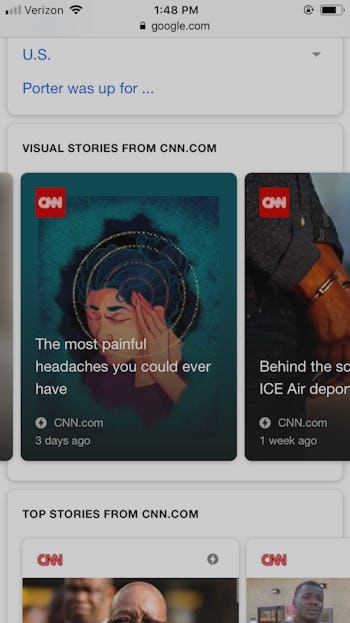 Kevin Litman-Navarro
Google is taking a page from Snapchat's playbook and revamping mobile news delivery. As of Wednesday, AMP versions of web pages — short of "Accelerated Mobile Pages" — will be included in some mobile search results.
Google worked with a select group of publishers to create the first AMP stories that would appear on mobile search. To see an AMP story, visit Google's developer blog on a mobile device and look up one of the participating publications, like CNN, Vox Media, or Conde Nast publications. Scroll down, and you should see a window labeled "Visual Stories." Google calls it "a visual-driven format for evolving news consumption on mobile."
Why it Matters
This is an interesting development because it demonstrates that a significant amount of people rely on mobile search when looking for information. In fact, Google announced that the amount of mobile searches surpassed desktop searches back in 2015, so directing content at mobile users makes sense.
How You'll Read the News in the Future
This change could have a big impact on the publishing landscape. When Facebook was the main platform used to disseminate content, many digital publishers poured resources into making video, because it was the most popular format on the news feed. Now, digital publications are focused on grabbing SEO traffic from Google Search; the changes Google makes to mobile search will affect how publications tell stories.
Select one of the options, and you can click through a news story that integrates text with aural and visual elements. You can also see AMP stories on your desktop.
The format is familiar to anyone who uses Snapchat. The messaging company was the first to integrate the story model into their platform, but the practice has since been appropriated by Facebook, Instagram, and now Google.
The main allure of stories is how well the format integrates with mobile devices. "Images, videos and graphics help publishers to get their readers' attention as quickly as possible and keep them engaged through immersive and easily consumable visual information," Google wrote in its statement.
For readers, it's much more rewarding to tap through a story than to scroll down a page of text. Rather than repackaging articles created for web browsers, publishers can invest in AMP stories that are aimed specifically at mobile users.
The shift toward visual stories is another signal that news outlets are trending away from text to include more pictures and videos in storytelling. As Google increases the amount of AMP stories in their mobile search results, it will be incumbent upon publications to create more of them. To that end, Google created an online manual detailing how to create AMP stories. In theory, it shouldn't be too difficult to adopt; creators just need a basic understanding of HTML, CSS, and JavaScript.
If people respond well to the mobile search changes, there might be another tectonic shift in digital publishing on the horizon. Prepare to pivot.