Snapchat "Stories Everywhere" Will Make Snap History
Will older demographics bite?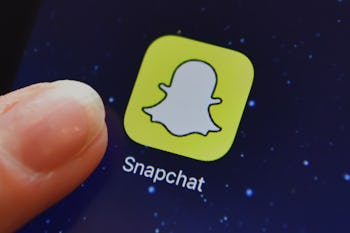 Getty Images / Carl Court
Snap Inc. wants its Stories to be everywhere. Literally.
In a company memo obtained by Cheddar, Snapchat announced its new feature, "Stories Everywhere," which is said to allow video sharing across other platforms. This expansion of content outside the app itself would be a major first since the platform's inception in 2011.
"Stories Everywhere" could be a huge draw for both new demographics and existing ones looking to expand their following. Given that over 3.5 billion snaps are created and shared every day, the potential share-ability of the abundant content is virtually unlimited.
And by allowing Stories to live outside of the Snapchat app, the platform's influencers and power users can finally share their content with non-Snapchatters. All of this can create potential profit for Snap Inc. at a time when it's losing money along with losing users.
Cheddar also noted that an internal memo hinted at Snapchat's strategy to "increase the overall output of content in the redesigned Discover feed, widen content distribution, and double-down on news." This implies that the recently-announced app redesign is meant to make Snapchat's Discover page more integrated with media generated content, while perhaps also "distribute" it on other platforms.
Stories Everywhere is also reminiscent of Twitter implementing embeddable tweets back in 2011. It's still unclear how integrated Snap Stories will become with outside content, such as news stories and social posts.
The timely feature seems to be one of Snap's latest attempt, along with introducing a year-in-review feature this month, to speed up its slow user growth. Snap has had a tough time since its IPO earlier this year. Not only were its smart glasses, Spectacles, considered a financial failure, it also had a dismal third quarter with promises to improve.
Snap is currently rolling out a redesign to simplify usage for older users who have been known to be intimidated by its learning curve.
"Stories Everywhere" seems to fit in with the app's overall strategy to move to an easier-to-follow interface. It's unclear when the feature will be released, though the strategy memo points to a 2018 roll out.