Snapchat Update: Petition for Redesign Passes 800k+ — Will It Change Back?
So many signatures, and still no response from Snap.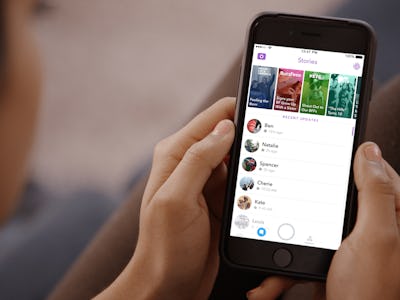 Snapchat
A petition on Change.org pleading for Snapchat to "undo" its recent app update is gaining momentum. After Snapchat unveiled a major redesign of its popular app last week, the majority of its most dedicated users voiced their dismay in the form of a petition, and despite gaining more than 800,000 signatures, Snap Inc. hasn't budged.
The petition's organizer, 17-year-old Australian Nic Rumsey, tells Inverse he hasn't "heard a single thing from them so far."
Rumsey says, however, the petition is already bringing users hope, saying "it's definitely jumped far higher than anyone's expectations recently."
"Just from this petition alone I've gained over a thousand new viewers, so that goes to show how active people are," he says.
But even when the petition reaches one million signatures, Rumsey explains the petitioners will "need far more than that to make a worthwhile impact." This is because Change.org automatically increases the number when each subsequent signature goal is hit.
So far, the update has been reportedly rolled out to select users in the UK, Canada, and Rumsey's native Australia.
The loathed redesign includes a new "Friends" tab that displays a non-chronological feed, along with a new Discover section. The app now features users' own Story under their profile page, whereas it used to appear on top of friends' Stories.
Other changes also include Group Chats gaining their own page and optional Story. Elsewhere, Snap Map has been moved, too, and now appears on the Discover page and in Search. Whereas, prior to the update, the map was also previously accessible from the camera screen.
Thus far, Snap Inc. has only addressed the negative reaction with a statement regarding users adjusting to the new design.
"Updates as big as this one can take a little getting used to, but we hope the community will enjoy it once they settle in," a Snap spokesperson said during the update's rollout.
The update is set to be available to all users within the next few months, but Rumsey says the signature number is a testament that Snap should rethink the rollout.
"Judging by the amount of people that have signed, I'd say it just goes to show how one app can influence so many people's lives."