New Data From Netflix Reveals Your Binge-Watching Habits
This could get embarrassing.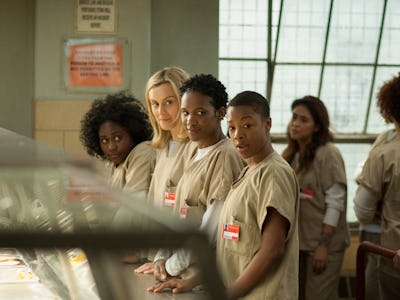 FTP Edelman 
Netflix users with a habit for binge-watching might find some solace in new data released by the streaming giant users with a habit for binge-watching might find some solace in new data released by the streaming giant on Wednesday: You are not alone.
Over 90 percent of members have completed at least one series binge, which the streaming service defines as having completed at least one season of a show within a week.
As part of their "My First Binge" campaign, Netflix is also encouraging users to peer back into their own streaming habits to reminisce about that special first time.
How to See What You've Binged
Make your way into the settings page on your Netflix account. Then select "Viewing Activity" and scroll all the way down to see the first shows you watched. If you watched one full season of a show in seven days, then congratulations, that's your first binge!
Everybody Binges, Everybody Cries
Netflix also combed through aggregate user data to find some interesting stats on our collective binge-watching tendencies. Generally, members complete their first binge in only three days. The most popular shows to binge first were Orange is the New Black, Breaking Bad, and The Walking Dead, in that order.
Aside from possibly being a ghastly exercise in self-flagellation — think of all the time on the couch — rifling through your viewing history is a new reminder that companies like Netflix accrue massive amounts of data by cataloging the behavior of paying customers. And this data is valuable; Netflix uses your watching habits to determine what content it should create and promote, ultimately keeping you engaged and subscribed.
Regardless, the new statistics demonstrate that people are getting their money's worth from their Netflix subscriptions. Even as companies like Moviepass have prompted cinephiles to frequent movie theaters for less money than a Netflix account, and other streaming services have upped their game to invest in original content, Netflix has shows no sign of losing its grip on the home movie market.