For Limited Time, MoviePass Has Made Going To Theaters Cheaper Than Netflix
It pays for itself with just one movie.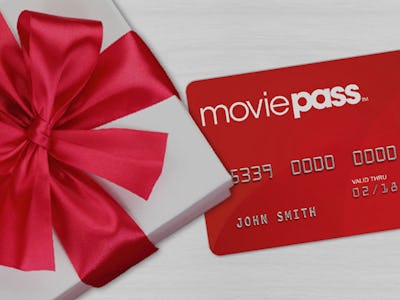 MoviePass
MoviePass has once again dropped its monthly subscription rate.
The startup being credited for making movie-going accessible to the masses is having a limited time sale in which you can subscribe for just just under $7 per month. The "limited time" sale comes just months after MoviePass implemented a flat rate of $9.95 a month, foregoing its tiered $15 to $50 monthly plans.
The catch? You have to purchase a year's worth of subscriptions upfront for a one-time $89.95 fee — making your monthly rate a measly $6.95. That's cheaper than Netflix's standard monthly subscription price.
According to the company, the way the sale works is you opt in by paying $89.95 upfront for a one-year subscription. "This allows you to see one standard format movie per day at participating theaters. This is a limited time offer, so make sure to act fast."
"We are entering the prime movie going season, so now is the perfect time to take advantage of the MoviePass movement," MoviePass CEO Mike Lowe said.
But just like those cheap yet pesty gym memberships, you won't get a refund if you choose to cancel before your year is up. Even more bothersome is the fact that "If you change your mind, you will not be able to set up a new account for 9 months."
In other words, if you're commitment-phobe, you're better off keeping your current subscription if you already have the regular monthly $9.95 subscription.
While the deal seems too good to be true, MoviePass' recent price drops — thanks in part to an acquisition by data firm Helios and Matheson Analytics — have helped it boost its user rate. Given that hyper growth is every startup's dream come true, the membership boost helped revive MoviePass' often-forgotten service with movie buffs. The company had only about 20,000 subscribers last year, and now it has 600,000 members and counting.
Like most subscription services, the way MoviePass works is by using subscription revenue to pay for its services. As a MoviePass member, you're issued a Mastercard "credit card" to purchase movie tickets with at the theater kiosk. When you "check in" to a specific showtime, MoviePass puts the exact ticket price's amount on your card to purchase it.
While MoviePass has yet to show how this aggressive model will help it profit, there is some evidence it eventually may. According to Lowe, MoviePass subscribers typically have more cash to spend on snacks and drinks than other movie ticket buyers — thanks to the low ticket pricing — which may help cut deals with theater chains.
When all else fails though, MoviePass will probably begin profiting the old fashioned way: by selling users' data for marketing purposes the way Facebook and Google do.