Tony Stark Is Officially More Popular Than Han Solo
Or at least, the 'Infinity War' trailer was more popular than the 'Solo' trailer.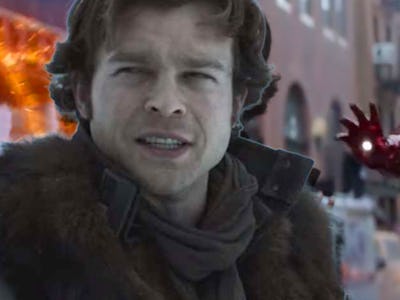 Lucasfilm/Marvel
Super Bowl viewers were more excited about Sam Wilson's Falcon than they were the Millennium Falcon, based on social media buzz after the big game. Although Solo: A Star Wars Story debuted its first official footage in a teaser on Sunday night, more people were talking about the new trailer for Avengers: Infinity War, according to comScore's PreAct measuring service.
Variety reports that, although more people watched the Solo trailer on YouTube following the premiere during the first quarter, more people were talking about Infinity War, based on comScore's methods for tracking "conversations" on social media. Infinity War sparked 279,000 new conversations as of Monday at 1 p.m. Eastern, and racked up 5.9 million and 11.7 million video views on YouTube and Facebook, respectively.
Solo, meanwhile, was viewed 8 million times on YouTube and 5.9 million times on Facebook during that same time period, and this is before the full trailer for the movie premiered during Good Morning America on Monday. However, by comScore's metrics, it only started 109,000 conversations. It's unclear how many of those conversations were about Donald Glover's Lando.
This makes sense, in a way. As Tony Stark says in the Infinity War trailer, "it's all been leading to this." The MCU has been building hype for Thanos's invasion for half a decade, stoking the flames of anticipation with each movie that came out after The Avengers. There actually wasn't much in that trailer aside from some cool visuals, but people are already excited about it, and want to talk.
Solo, meanwhile, is an unknown entity, as weird as that is to say about a Star Wars movie. People are just now, only a couple months before the film's release, getting a look at it. That's why the trailer is getting a lot of views but people aren't chatting about it on social media. We're still figuring out how we feel.
In other Super Bowl trailer news, Jurassic World: Fallen Kingdom had the second-most views on Facebook with 11 million, but started only 45,000 conversations. Mission Impossible - Fallout gave rise to 53,000 conversations and garnered 6.4 million YouTube views and 8.2 million Facebook views.
Only 103.4 million people watched the Super Bowl, making it the least-watched Super Bowl since 2009.
Avengers: Infinity War hits theaters on May 4, while Solo: A Star Wars Story opens on May 25.