Every Movie and TV Trailer From the Super Bowl, Ranked
From Biggie to Thanos, here's what's we saw.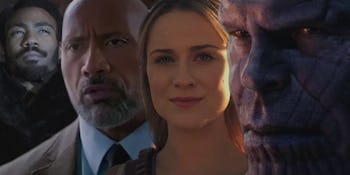 Lucasfilm/Legendary/HBO/Marvel
Super Bowl Sunday was an eventful night, to say the least. The Philadelphia Eagles defeated the New England Patriots in a thrilling game, and Justin Timberlake underwhelmed during this halftime performance. Throughout the evening, there were plenty of Super Bowl commercials. There were ads about massive beer companies looking to be thanked for giving people water so they don't die (sometimes) and there was an especially egregious misuse of a Martin Luther King Jr. speech to sell cars, but there were also plenty of movie and TV trailers.
There were more than a couple surprises, as Netflix announced an unexpected premiere and the next Star Wars finally debuted some official footage, but not all of the trailers were great. Here are all the movie and TV trailers that premiered during the game, ranked from worst to best. (The Crocodile Dundee "reboot" was not actually promoting a real movie, so it is not included in this list, though it would've ranked pretty high).
12. Unsolved: The Murders of Tupac and the Notorious B.I.G.
We're not wanting for true crime miniseries based on events from the Nineties (see Waco and American Crime Story for just a couple examples), but the spot advertising USA's entry into the field fell flat. Nobody watching on TV had any idea how many seconds long the trailer was, so the "brag" that Tupac and Biggie's murders had gone unsolved for that many seconds didn't really connect.
Unsolved: The Murders of Tupac and the Notorious B.I.G. premieres on February 27.
The trailer for Hulu's upcoming horror show, which combines parts of several Stephen King stories, including The Shawshank Redemption, It, Needful Things, Salem's Lot, and more, is good, but it's old. The full trailer came out before the Super Bowl so it didn't feel big enough for the Big Game.
Castle Rock premieres this summer.
10. Tom Clancy's Jack Ryan
Amazon must've shelled out a ton of money to air this trailer for it's Jack Ryan series immediately after Justin Timberlake's halftime show, but it doesn't feel especially fresh. The crummy cover of "All Along the Watchtower" and quotes about freedom from presidents past don't lend gravitas so much as they just make the whole thing feel jingoistic as hell. Plus, it's still weird, to me at least, that Jim from The Office is now a swole dude who plays army guys.
Tom Clancy's Jack Ryan premieres in August.
9. Red Sparrow
Somehow, this is still not a Black Widow movie.
Red Sparrow premieres on March 2.
This trailer also feels like something we've seen before, as it has the same "action man saves family" tropes we've seen in Die Hard and Air Force One, but it also has Dwanye "The Rock" Johnson in it, and that guy is pure charisma and muscle.
Skyscraper premieres this summer.
What is Fallen Kingdom? The first trailer was heavy on action, full of volcanos and massive set pieces. The second trailer, which premiered during the Super Bowl, has that too, but it also has a dinosaur inside what looks like a suburban child's bedroom. From these two trailers, Fallen Kingdom looks either too big or too small, and the scaly beasts in the movie feel more like monsters than dinosaurs. It's a weird distinction, but it's holding Fallen Kingdom back.
Jurassic World: Fallen Kingdom premieres on June 22.
Oh hey! It's John Krasinski again. A Quiet Place, which was written by Krasinski and stars him and his IRL wife Emily Blunt, premiered a trailer just before the Super Bowl started. The horror movie, about a family on the run from monsters who are attracted to sound, seems pretty good, but felt a little, I don't know, too quiet for the Super Bowl setting.
A Quiet Place premieres on April 6.
Given that most viewers had probably never even heard of this movie, the trailer needed to do a lot of work. By reminding viewers about the events of the 2008 Cloverfield and then promising to explain what happened, The Cloverfield Paradox spot was enticing. The problem is, the actual trailer that aired during the Super Bowl botched the landing. While the trailer Netflix released online (which you can see embedded above) says the surprise release was "tonight," the one that aired on TV only said "coming soon," which undersold the surprise release in a big way.
The Cloverfield Paradox is now streaming. That was fast.
Everyone's favorite Game of Thrones substitute is coming back for its sophomore season, and HBO's Super Bowl trailer seems to promise a more straightforward plot (at least on face value) than the first season. Dolores and the other Hosts, having overthrowing the park's human operators at the end of Season 1, appear to be trying to build their own world. There's tons of potential there, and Westworld might be exciting without extra-curricular Reddit threads about different timelines. Plus, that cover of Kanye West's "Runaway" was neat.
Westworld Season 2 premires on April 22.
Love or hate Tom Cruise, you've got to admit that the dude knows action. Mission: Impossible - Fallot, a film with almost as many punctuation marks in the title as it has words, looks like it's going to be a stylish, action-packed romp with fun set pieces. Sometimes that — and Tom Cruise driving straight into a truck — are all you need.
Mission: Impossible - Fallout premieres on July 27.
By all rights, the short Infinity War Super Bowl spot shouldn't have been as exciting as it was. The trailer didn't really offer anything new other than a few cool, fleeting glimpses of new action scenes. But, since Marvel has been building up to this movie for what feels like forever, that's enough. There's enough hype that a quick shot of Captain America's new gauntlet or Spider-Man doing his thing on the side of a massive alien craft is exciting enough.
Avengers: Infinity War premieres on May 4.
1. Solo: A Star Wars Story
The Cloverfield Paradox was a true surprise, but the first trailer for the Han Solo Star Wars spin-off was by far the most exciting trailer of the night, if only because it's literally the first anybody has seen of the movie even though it comes out in just a couple months. Solo has had a rough production, and has been haunted by ominous chatter about its quality, but the Super Bowl trailer was promising enough to get fans excited.
Solo: A Star Wars Story premieres on May 25.