You Need to Listen to Kendrick, Weeknd's 'Black Panther' Single Right Now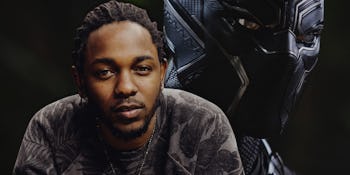 Grammy
Marvel fans woke up today to a new song taking over the radio: "Pray For Me," a new collaboration between R&B and hip-hop stars The Weeknd and Kendrick Lamar, set to appear on the soundtrack for Marvel's Black Panther. Characterized by rhythmic techno beats and soothing, ghostly vocals, "Pray For Me" is one of the best songs ever made for a Marvel movie, if only by default.
In anticipation of Black Panther, hitting theaters February 16, the Grammy-winning Lamar has released the single "Pray For Me" on multiple platforms, including Spotify. The song is taken from the official soundtrack, Black Panther: The Album, from Interscope, available February 9. The song is the third from the album released by Lamar, the other two being "All the Stars" with SZA and "King's Dead" with Jay Rock, Future, and James Blake. Unlike the majority of Marvel movies that rely on classic pop and rock hits, Black Panther: The Album will have new, original singles to promote the film. If you want to listen to the song right now, the easiest way to stream it is on Spotify. Here it is if you haven't heard it.
Although the Marvel Cinematic Universe has been going strong for ten years, only two films in the franchise have original albums that released new singles: 2012's The Avengers, which had Soundgarden's "Live to Rise," and Iron Man 3, which released "Ready Aim Fire" by Imagine Dragons way back in 2013.
Other Marvel albums have released old hits recycled for nostalgia. 2010's Iron Man 2 was essentially an AC/DC greatest hits compilation, while both albums for Guardians of the Galaxy were like a baby boomer playlist on Spotify. The rest of Marvel's discography have been original scores from composers like Alan Silvestri, Brian Tyler, Mark Mothersbaugh, and Tyler Bates.
Led Zeppelin's "Immigrant Song" is now famously attached to Thor: Ragnarok, released last November. But that classic rock hit was released decades before Marvel could even fathom having a film and television empire.
But even without that history, "Pray For Me" is just a chill, dope track that is equal parts gritty and futuristic (those beats, man). It's the kind of song you can imagine T'Challa having play while riding in a Wakandan airship, or streaming into his helmet as he prepares to fight Erik Killmonger.
Two more tracks from Lamar's Black Panther efforts have yet to be released: "Black Panther," and "Big Shot" with Travis Scott. Until then, you can listen to "Pray For Me" on repeat below.
Marvel's Black Panther hits theaters on February 16. Black Panther: The Album will be released on February 9. You can pre-order it on iTunes here.