San Francisco's Plan to Wipe Old Convictions for Marijuana is a Big Win
It's a big move for racial justice.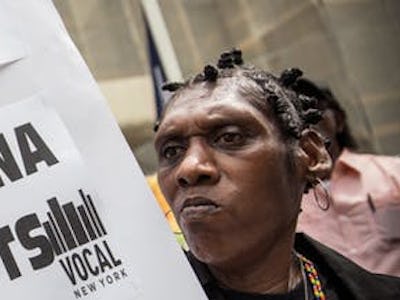 Getty Images / Andrew Burton
On Wednesday, San Francisco's district attorney announced a big win for marijuana legalization, and for racial justice: the city would retroactively apply the new laws to prior marijuana-related convictions dating back to 1975.
This would potentially affect nearly 5,000 felony convictions and 3,000 misdemeanors, allowing convicted individuals to access housing and employment that they were previously barred or stigmatized from.
"While drug policy on the federal level is going backwards, San Francisco is once again taking the lead to undo the damage that this country's disastrous, failed drug war has had on our nation and on communities of color in particular," said Distric Attorney George Gascón in a statement. "Long ago we lost our ability to distinguish the dangerous from the nuisance, and it has broken our pocketbooks, the fabric of our communities, and we are no safer for it."
Meanwhile, California's Lieutenant Governor Gavin Newsom said that San Francisco's actions provide "new hope and opportunities to Californians, primarily people of color, whose lives were long ago derailed by a costly, broken and racially discriminatory system of marijuana criminalization."
Newsom is referring to the fact that while racial groups tend to use marijuana in similar numbers, a much larger proportion of African-Americans and Latinos get into trouble for it. In California alone, one-quarter of people jailed for marijuana-related offenses are black, according to the LA Times.
Nationwide, Black Americans are 3.7 times more likely to get arrested for marijuana possession than their white counterparts, as Inverse has previously reported, and the imprisonment rate for Black Americans for drug-related charges is almost six times that of white Americans.
As a result, racial justice, is increasingly used as an argument for legalization, including in New Jersey and New York.
San Francisco's move comes at a time when the status of marijuana legalization across the country is being challenged at the federal level, with Attorney-General Jeff Sessions [rescinding] (https://www.inverse.com/article/39922-jeff-sessions-to-end-federal-policy-that-encouraged-legalizing-marijuana) an Obama-era policy that gave states substantial leeway in deciding on marijuana's legality on a state-level.
It's unclear whether other cities or regions will follow in famously liberal San Francisco's lead. While neighboring Oakland has proposed similar legislation to automatically expunge criminal convictions related to weed. However, Sam Kamin, professor of marijuana law and policy at the University of Denver's Sturm College of Law, told the LA Times that in Colorado, prosecutors have thus far been reluctant to erase prior marijuana-related convictions.