The marijuana industry has reached new highs.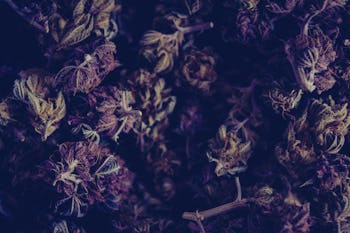 Unsplash / Esteban Lopez
2017 was a big year for marijuana. More U.S. states and countries around the world are moving towards legalizing medical weed than ever before. All of this adds up to a burgeoning pot industry, which means profit for growers and more likelihood that weed will start showing up in front of consumers from coast to coast.
Here's a year in review, cannabis-edition:
More States Move Towards Legalization
In April, West Virginia became the 29th state to legalize marijuana for medical use. Then, on election day in November, California, Massachusetts, Maine, and Nevada all passed laws legalizing the recreational use of pot.
California leads the pack, with $2 billion in sales of medical marijuana this year, and some estimate that taxes and fees could provide the state with $1 billion in revenue. Meanwhile, Colorado had already hit over $1 billion in sales in the first eight months of 2017, a higher figure than expected.
With such a strong economic argument for legalization, we can expect more states to follow suit. In early 2018, keep your eyes on New Jersey, which is likely to legalize marijuana with its new Democratic majorities up and down the ballot. (The new governor, Phil Murphy, promised to approve a legalization bill as soon as it reaches him.
National Polls Show Record Highs in Support for Legalization
In October, Gallup conducted a poll that showed that 64 percent of Americans favored the idea of legalizing weed nationally. Tellingly, 2017 is also the first year that a slight majority of Republicans (51 percent) also support legalization, as the Washington Post reported.
This is an increase from 2016, when Gallup found that 60 percent of respondents favored legalizing weed. Both of these figures are a huge increase from 1996, when only 25 percent of Americans favored legalization, showing the great strides that cannabis has made in public acceptance.
Uruguay and Canada Lead a Global Movement Toward Marijuana Legalization
In April, Uruguay made headlines for becoming the first country to legalize the recreational use of pot, turning pharmacists into legal pot dealers. The country was the world's first to legalize — and regulate — medical marijuana back in 2013.
Canada is poised to follow Uruguay's lead, with a bill passing through the House of Commons in November that would legalize recreational marijuana by July 2018, creating a billion dollar industry.
Meanwhile, other countries are also moving forward in legalizing marijuana use in various forms. Germany legalized "marijuana as medicine" in March , and on December 20, Mexico announced that it too would be legalizing marijuana-based medicines, foods, drinks, and other products, following its own legalization of medical marijuana back in June.
Germany and Mexico are among the seven countries that passed legalization laws this year, while New Zealand has moved at least one step closer by promising to hold a referendum on marijuana legalization by 2020.
Sales of Legal Pot in the United States Expected to Hit $10 Billion
Marijuana is already a big business, and it's growing. According to Arcview Market Research, sales of legal pot in North America will hit $10 billion by the end of the year, which represents a 33 percent jump over 2016 and a far-faster growth than expected.
"Aside from cryptocurrency, there is simply no other industry changing as rapidly or as unevenly as the cannabis sector," says Arcview's CEO Troy Dayton.
Big corporations are also getting into the game, with nine of the largest companies in the marijuana space coming from biotech and pharma.
As big corporations and small start-ups alike realize how much they can make off of selling consumers marijuana, in the future we can probably expect to see legalized marijuana popping up in cocktails, edibles, medicines, and even beauty products.
The Market for Illegal Pot Isn't Going Away Yet
The legalization across much of the United States and world has not eradicated the illegal market for cannabis. In California, illegal pot still accounts for roughly $5.7 billion in sales, or about three-quarters of the state's overall sales of pot.
With the high taxes that the state will be charging on legal marijuana, which could jump to 45 percent when local taxes are taken into account, analysts believe that the market for unregulated marijuana will still be around for the foreseeable future.
And not just for in-state buyers. Because pot is not legal across the United States, pot smuggling across state lines is also a big business. According to one 2017 study by the California Department of Food and Agriculture, the state produces 13.5 million pounds of marijuana annually, of which Californians are only consuming 2.5 million pounds. The rest is being exported for profit — which, in case you had any doubt, is definitely illegal.
Increased Efforts for Racial Justice in Legal Pot Industry
While marijuana is becoming a big business in Washington D.C. and the 29 states where it's legal, the vast majority of those cannabis businesses are still owned by white men.
Current laws that govern who can receive a dispensary license may have - no pun intended — racial bias baked into them, since drug felons are prohibited from operating pot businesses or, in some cases, even working for them as employees. Minorities are significantly more likely to face arrest for minor drug related offences. According to a 2013 American Civil Liberties Union report, a black person is nearly four times more likely than a white person to be arrested for possession of marijuana, even though the two groups use marijuana at similar rates.
Other barriers to entry include financial requirements. In some states, it can be as high as $1 million in holdings for a dispensary, marijuana entrepreneur Wanda James recently told the Washington Post. The former Navy pilot is one of the few black pot growers in the state of Colorado.
But organizations like the Minority Cannabis Business Association, founded in 2015, are increasingly vocal in advocating for minorities in the business. As more growers of color enter into the field, their voices are being amplified. Meanwhile, racial justice is helping make the case for legalization in places like New Jersey and New York.
2017 saw the marijuana industry continue to grow and mature, a trend that will only continue in 2018.