The Good, The Bad, The Ugly: 15 Comic Book Adaptations In the Works
It's not always about superheroes.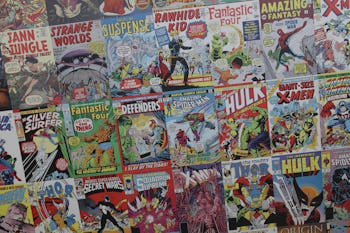 Marvel struck gold when they launched their cinematic universe based on their own never-ending back catalogue of titles. Initially it was deemed a risky move for the financially-bereft studio, but since they started taking home checks with an endless stream of zeroes - their competing studios and networks decided they'd like in on the action. Meaning: there's more comic book adaptations on the way that hail from comic imprints large and small. Here's a handful to ponder; just in case you're nonplussed by another Spider-Man.
Looks Brilliant
'Preacher'
This one's in the works at AMC, whose previous experience with The Walking Dead lends this project a certain pedigree. It's based on the '90s comic series created by Garth Ennis and Steve Dillon with Seth Rogen and Evan Goldberg guiding it to the small screen. The story twists together religious dogma, brutal violence with elements of the supernatural and follows preacher Jesse Custer (Dominic Cooper) as he ventures off to find God.
'Pax Romana'
This one is still in the early development stages at Syfy after its announcement last year. While there's little information on the project, the comic's reputation and genre-melding story is intriguing enough. Based on Jonathan Hickman's graphic novel, Warehouse 13's Stephen Scaia and The Walking Dead's David Alpert are executive producing this time-travel yarn wherein the Vatican sends a fleet of heavily-weaponised soldiers back to the Roman era to prevent a terrible event in the future. Expect swords-n-sandals vs. plasma rifles-n-Nikes.
Deadpool
It took years for Tim Miller's sizzle reel footage for the proposed film to hit the web, and it wasn't until fans lapped up the brief preview that Fox greenlit the mutant spinoff. Ryan Reynolds reprises his role as Wade Wilson - aka Deadpool - the Merc with a Mouth who previously appeared in the lacklustre X-Men Origins: Wolverine. Early set photos along with Reynolds' social media teasers are unconcerned with being PC, that only makes us crave it more.
Chew
Straight out of the gate this one's got buckets of fan-bait appeal with the voice casting of Steven Yeun (The Walking Dead's Glenn), David Tennant (Doctor Who) and Felicia Day (The Guild). The animated series is based on the Image Comics title about Detective Chu, a "cibopath" who possesses the ability to gain knowledge of an object (or person) by biting it, and his experiences in a world where all bird meat is banned. Sounds suitably nutty.
'Starlight' and 'Chrononauts'
The former follows a ex-superhero who returns to the costumed life, and Chrononauts revolves around a pair of time travelers who venture across time while their exploits are televised back on Earth. Both emanate from Kick-Ass and Kingsman creator Mark Millar. This pair of adaptations are set up at rival studios, the former is at Fox, the latter at Universal, but share a ton of other similarities. Namely - it's MARK MILLAR! His successful page-to-screen ratio is higher than other comic scribes, and his flare for threading mature characters (i.e. they swear and shag) into geekier-than-thou scenarios suggests that you should keep them on your radar.
'Bloodshot' and 'Harbinger'
Sony is backing this new shared universe after brokering a lucrative deal with comics publisher Valiant Entertainment. Bloodshot revolves around a resurrected soldier captured by the government and then reprogrammed as a relentless killing machine. So far, so what? Well, the directors of John Wick are at the helm on this one, based on a script by Kick-Ass 2 writer Jeff Wadlow. Their combined credits suggest it won't bear the family-friendly PG-13 rating. That first flick is due in 2017, and will be followed by Harbinger, also scripted by Wadlow that's oriented around a group of super-powered creatures being hunted down by a shadowy organisation. Both titles will spawn two features before the inevitable crossover Harbinger Wars.
'Sandman'
This adaptation has simmered in development for years. Decades, even. Neil Gaiman's epic tale set in the world of dreams has long been considered completely unfilmable due to its sprawling nature and unorthodox story. Still, Joseph Gordon-Levitt clings to this project like Tom Cruise clings to skyscrapers and jet engines, with the hopes of starring in and producing alongside David S. Goyer. It's a long ways off - but it will be worth the wait.
Looks Okay
'Jessica Jones'
The second straight-to-streaming series in the Marvel-Netflix deal hasn't even dropped its first teaser and yet it already faces one giant obstacle: Daredevil. The universally-praised series has set the bar way high for the remainder of the four shows to come. Granted, there's not yet been a teaser, or any official artwork, but this Krysten Ritter-led show has its work cut out for it. Storywise, it follows the eponymous heroine who opens a detective agency in New York after the superhero life leaves her frazzled.
'The New Mutants'
Another X-Men spinoff in development at Fox, this comic title will be recognisable to fans of Deadpool who made his first comic appearance in issue #98. Could this be an attempt to kickstart another branch of mutant-related movies? After all, with the endless possibilities this type of lynchpin comic provides it's a surprise that it wasn't greenlit years ago. The studio has enlisted a rather interesting choice for director - The Fault In Our Stars Josh Boone, who could deliver us the first mutant teen weepie. If that's your sort of thing.
'Outcast'
Riding on the coattails of The Walking Dead, Cinemax scooped up another of Robert Kirkman's comic titles and have gone on to grant it a full series order. Patrick Fugit stars as a man desperate for answers concerning his life-long habit of constantly getting possessed. The ten-episode first season kickstarts with a pilot directed by Adam Wingard, who brought us the stellar You're Next and The Guest, so this one's got potential.
Looks Awful
'Lucifer'
You'd think that having Tom Kapinos writing a supernaturally-skewed version of Hank Moody would look like a lot of fun, but Fox's adaptation of the Vertigo character Lucifer Morningstar (who originally appeared in Neil Gaiman's seminal Sandman series) looks to be a bit of a damp squib. Could be the casting of Tom Ellis in the lead, or the direction of Underworld's Len Wiseman, but this teaser ain't as charming as it thinks it is.