SpaceX Falcon 9 Launch Today Will Push It to the Limit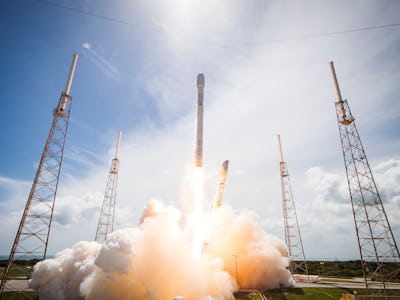 Flickr / Official SpaceX Photos
Just days before its much-hyped Falcon Heavy launch, SpaceX is squeezing in one more Falcon 9 launch on Tuesday.
This launch marks the sixth time SpaceX has sent an already-flown booster into space. In this case, one of the rocket's boosters first launched back in May 2017, on a highly classified mission for the National Reconnaissance Office. This time, however, SpaceX will not attempt a landing of its first-stage booster. The launch window opens at 4:25 p.m. Eastern and closes at 6:46 p.m. Eastern, from Launch Complex 40 at Cape Canaveral Air Force Station.
On board the two-stage Falcon 9 is GovSat-1, a satellite collaboration between the government of Luxembourg and a Luxembourg-based communications company called SES.
Weather conditions for today's mission aren't great — only about 40 percent favorable. Gusting winds are an issue, Florida Today reports. A backup launch on Wednesday could be feasible, as weather conditions are expected to improve.
The refurbished booster used on Tuesday's mission once again shows SpaceX is serious about achieving its goal of reusable rockets in order to drive down the cost of launches. According to Space.com, SpaceX has so far successfully launched five previously used Falcon 9 boosters "and landed first stages on 21 separate occasions."
Until then, we have plenty more Falcon 9 launches to look forward to. You can watch the launch live below.