SpaceX Will Launch Its First Spy Mission for America on April 30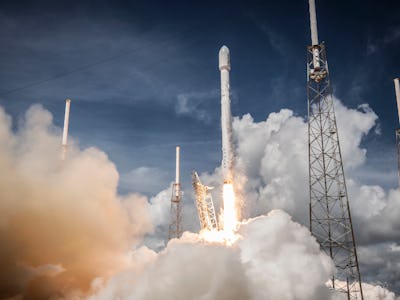 Getty Images / NASA
This post has been updated throughout
SpaceX's launch of a reused Falcon 9 rocket in March made history in a huge, momentous, loud way, but the company's next achievement is a little more clandestine.
Elon Musk's private spaceflight company will launch a "classified spacecraft payload" for the U.S. National Reconnaissance Office on April 30. That's right, SpaceX is about to drop off a spy satellite in orbit. The launch window opens at 7 a.m. Sunday.
NROL-76 will take off from SpaceX's launch pad LC-39A from Kennedy Space Center on Sunday, April 30 (launch time and window are to be determined). SpaceX has never performed a mission exclusively for the NRO. Previously, the government used Boeing and Lockheed Martin's United Launch Alliance rockets for most of its clandestine missions, as both aerospace companies are long-time defense contractors for the U.S. Military. SpaceX has been taking military contracts for almost a year, but hasn't flown any launches for the NRO, which is a member of the U.S. Intelligence Community.
Most of the company's prior military launches have been Global Positioning Systems satellites, including the recent $96.5 million contract with the U.S. Air Force to expand the military's GPS-3 program.
The NRO essentially serves as the eyes in upper orbit for the rest of the intelligence community and the armed forces. The agency, which is staffed mostly by contractors and members of other branches of the military, monitors satellite data and tracks military and civilian movements across the globe, everything from tank buildups in Syria to submarine activity in the Yellow Sea.
The launch has been on the books for years, but hasn't been mentioned very much — which seems fitting, for a spy mission. SpaceNews reported that company confirmed an NRO launch (then scheduled for late March) back in May of 2016, and noted at the time that the intelligence agency piggy-backed on very early Falcon 9 launch in 2010, sending up a small cubesat with another payload. But this mission will be a far bigger commitment, and serves as a ringing endorsement of the company's prospects going forward.