SpaceX Just Got a $96.5 Million Contract From the Air Force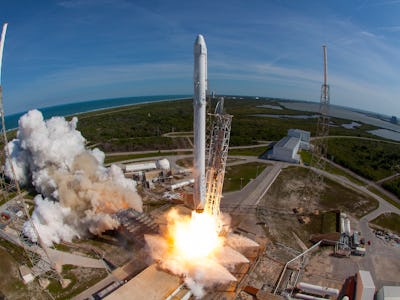 Getty Images / NASA
SpaceX's relationship with the federal government has certainly had its ups and downs, but the U.S. Air Force still seems to have Elon Musk's back. On Wednesday, the government awarded SpaceX a $96.5 million contract to launch a GPS 3 satellite into orbit sometime in early 2019. SpaceX has been competing with other private corporations, like Boeing and Lockheed Martin's United Launch Alliance, for government contracts since 2015.
"SpaceX is proud to have been selected to support this important National Security Space Mission," SpaceX president and COO Gwynne Shotwell said in a statement. "We appreciate the confidence that the U.S. Air Force has placed in our company and we look forward to working together towards the successful launch of another GPS-III mission."
The company may have been able to edge out ULA by undercutting the latter company's costs — as the Wall Street Journal reports, ULA was charging close to $200 million for similar launches. This is SpaceX's second GPS 3 launch contract.
But regardless of cost, the sizeable contract is a big vote of confidence for the private spaceflight company. Government investigators are still skeptical that the company can meet its deadlines to get the new Falcon Heavy and Dragon 2 spacecraft up to par for NASA's commercial crew program, which hopes to use the company's hardware to carry astronauts to the ISS by 2019.
SpaceX, for its part, is confident enough in its capabilities to fly two private citizens around the moon sometime in late 2018, if everything goes according to schedule. In the meantime, a fixed-price $96.5 million contract won't go to waste.