Grammy Award-Winner Hillary Clinton Makes Fun of Donald Trump
Okay, but actually Hillary Clinton has a Grammy.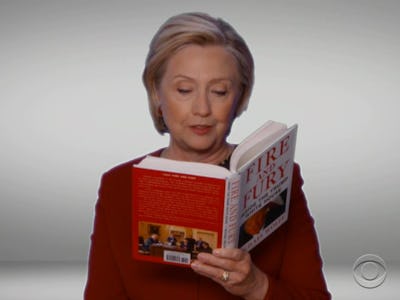 CBS
Donald Trump won the 2016 presidential election, but he's never won — or even been nominated for — a Grammy Award. Maybe that was small, small comfort for Hillary Clinton, who made a surprise appearance at the 2018 Grammy Awards in a pre-recorded segment making fun of the president.
During the ceremony on Sunday night, host James Corden set up the bit by explaining that non-musicians can win Grammy Awards in categories like Best Spoken Word Album (Carrie Fisher was 2018's winner). Corden explained that maybe Trump would be the subject of next year's winning audiobook, and played a video of various musicians auditioning to read Michael Wolff's barnburner, Fire and Fury: Inside the Trump White House. Musicians John Legend, Cher Snoop Dogg, Cardi B, and Khalid all took turns reading the book, before someone wearing a red pantsuit appeared, holding the book in front of their face. It was Hillary Clinton.
Clearly, the joke is that Trump's great political rival is coyly bashing him on a nationally televised award show, but Clinton isn't out of place at the Grammys. She's been nominated for the Best Spoken Word Album twice and taken home an award once. In 1999 she won for It Takes A Village, and she was nominated for Living History in 2003.
Donald Trump has never been nominated for a Grammy award. He has been nominated for an Emmy, which has never happened to Clinton, but he never won either of the times The Apprentice was nominated. It's something of a sore spot for him.
On the other hand, Trump did win the 2016 presidential election, and he's now the president of the United States. So, maybe we're the real losers here.