Carrie Fisher Won a Grammy, Proving She Was More Than Just Princess Leia
Not that we needed any more proof of how talented Fisher was.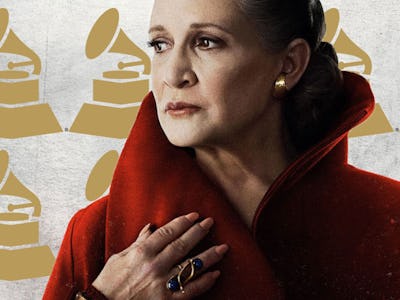 Lucasfilm
Carrie Fisher will probably always be best remembered as Princess Leia from Star Wars, which makes sense, given how iconic the role was. But the actress, who died in late 2016, won a posthumous Grammy Award at the 2018 award ceremony on Sunday night, proving once again that Fisher's legacy is far bigger than Princess Leia.
During the pre-ceremony, which took place before the televised ceremony on Sunday, Fisher won the award for Best Spoken Word Album for the audiobook version of her memoir The Princess Diarist. It was Fisher's second nomination, as she received a nod in the same category in 2009 for Wishful Drinking. This year, she beat out Neil deGrasse Tyson, Bruce Springsteen, Shelly Peiken, Bernie Sanders, and Mark Ruffalo.
This is not the first posthumous nomination Fisher received, as earlier this month she was up for an Emmy for her guest acting role on Amazon's Catastrophe.
Though it's not as visible as her work in front of the camera in Star Wars, Fisher was a prolific author, playwright, and advocate. Her Grammy win is in some ways the perfect accolade, as the Best Spoken Word Album reflects her voice work and considerable writing chops.
Naturally, Mark Hamill was thrilled.
"CONGRATULATIONS to my #GRAMMY-winning #SpaceSis!!!" the Luke Skywalker actor tweeted.
Fisher's daughter, Billie Lourd, posted a heartfelt message about her mom's posthumous win on Instagram"
‼️❤️‼️♏️🅾️♏️🅱️🌱 🕎🅾️♑️ 🅰️ 🎏⛎©️🎋ℹ️🆖 ⛽️®️🅰️♏️♏️🌱‼️❤️‼️ Princess Diarist was the last profesh(ish) thing my momby and I got to do together. I wish she was here to carry me down the red carpet in some bizarre floral ensemble but instead we'll celebrate in true Carrie style: in bed in front of the TV over cold Coca Colas and warm e cigs. I'm beyond proud
In other Star Wars-related Grammy news, Childish Gambino, a.k.a. Donald Glover, who plays Lando Calrissian in the upcoming Solo: A Star Wars Story, performed at the Grammys. However, he keeps his acting and music careers fairly separate. Also, the Grammys were on CBS this year, not Disney-owned ABC, so it's not like the stage was ripe for some corporate synergy.