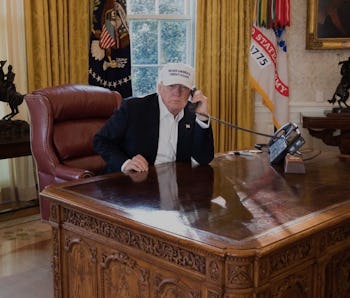 Culture
The Government Shutdown is Over: What's Next
The Senate has until February 8th to pass DACA legislation.
White House
And we're back! With a rare show of bipartisanship on Monday, the U.S. Senate passed a resolution to fund the government through February 8, temporarily ending the federal government shutdown.
Not much has changed since Senate Democrats refused to pass the legislation last Friday; the bill does not include legislation to extend Deferred Action for Childhood Arrivals, which was the key point of contention between the two parties leading up to the shutdown.
Senate Majority Leader Mitch McConnell pledged on Sunday night that the Senate would work towards DACA legislation once government funding was restored. So for the Democrats, it became a referendum on McConnell's trustworthiness. And after a weekend of negotiations, Democratic senators decided that they could take McConnell at his word.
Prior to the vote, Senate Minority Leader Chuck Schumer castigated President Trump for his role leading up the government shutdown, blaming the ordeal on, "President Trump's unwillingness to compromise." Schumer's indictment of Trump was balanced by praise of Senate bipartisanship, a theme that was echoed by Senate Minority Whip Dick Durbin.
"I'm incredibly grateful to the bipartisan group that has come together in recent days to renew the immigration debate with a sense of urgency," Schumer said. If some form of agreement on DACA isn't reached in the next 17 days, then we might be having this debate all over again. But Schumer is confident that the Senate will be able to pass a DACA bill with a 60 vote majority.
Assuming the House of Representatives passes the temporary funding measure (Speaker of the House Paul Ryan has already said that the house will affirm the bill), the shutdown will end shortly.
Things should be returning to normal: federal employees back at work and the White House comment line available once more (hopefully). "In a few hours, the government will reopen," Schumer said. "We have a lot to do."