Who Is Judge William Alsup? How He Blocked Trump's Move to End DACA
He's opposed the federal government before.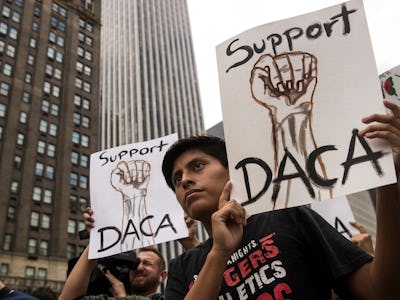 Getty Images / Drew Angerer
Just as Republicans and Democrats have begun public negotiations over the fate of DACA, a federal judge in California has blocked the Trump administration from ending the program.
Judge William Alsup made the ruling late Tuesday night, calling the Trump administration's decision to end the program by a March deadline "arbitrary" and "capricious" — terms that have also been used as legal reasoning in lawsuits opposing Trump's travel bans.
The ruling came after several states and groups, including the University of California, sued the Department of Homeland Security over the administration's decision to end the program. Now, Alsup says that the government must start receiving DACA renewal applications once again. However, the ruling is only partially effective; it only applies to those who have already received DACA protections. Those who would like to apply now still can't.
The Deferred Action for Childhood Arrivals, known as DACA for short, is an Obama-era U.S. immigration policy that allowed individuals who had entered the U.S. illegally as minors to receive work permits, as well as renewable deferred action from deportation.
According to the Associated Press Alsup said that the lawyers in favor of DACA had a high chance of succeeding in a trial, as they had already demonstrated that ending DACA would cause irreparable harm to the young immigrants protected by the program.
But the Department of Justice hasn't renegade on its position, despite Alsup's ruling. "The Justice Department will continue to vigorously defend this position, and looks forward to vindicating its position in further litigation," department spokesman Devin O'Malley said in a statement.
However, as members of Congress and President Trump intend to continue negotiating on DACA, the DOJ will have to successfully appeal to Alsup's decision in order to create any of their own momentum.
This isn't Alsup's first time ruling against the federal government over boarder security procedures. He also ruled in favor of a Malaysian woman who had been unfairly put on a no fly list and had her U.S. visa revoked for un-proven connections to "terrorist activities." Alsup claimed the U.S. government had not provided adequate remedies after putting the woman on the no-fly list, and had not adequately corrected the error.
Alsup was nominated for U. S. District Court Judge by President Bill Clinton in 1999. He got his law degree from Harvard in 1971. He's presided over a couple of high-profile cases concerning Silicon Valley tech companies in recent years, including the initial part of a lengthy trial brought by Google's self-driving car division Waymo that a former employee had stolen intellectual property and taken it to Uber.