The Struggle to Save Scientific Research From a Government Shutdown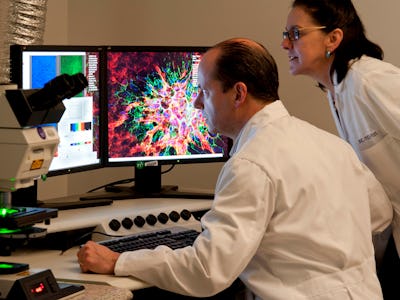 NIH/National Eye Institute/Flickr
Congress has until midnight Friday to pass legislation dictating the annual budget. If they don't find a consensus, that means there will be a partial government shutdown and government employees who perform "non-essential" duties will be put on unpaid furlough. A shutdown would affect millions of Americans whose lives are tied to government spending, including the scientists of the National Institutes of Health and the patients who hope to benefit from their clinical research trials.
The potential of a government shut down, Dr. Antony Fauci told the Associated Press on Thursday, has put the NIH into a "scramble." Fauci, director of the National Institue of Allergy and Infectious Diseases, warned that while the NIH would continue to take care of patients currently in NIH-run studies, a shutdown would jeopardize the fate of sick people who wish to enter the studies as well as the existence of the invaluable studies themselves.
"It's really quite disruptive to science, number one, and number two it is very demoralizing to the people — that they have to stop what they're doing, when they're doing it, because they want to help people," Fauci explained. "If you were to ask me to pick out one word of what's going on at the NIH right now, it's a scramble to address the possibility that we're going to be shutting down."
The shutdown, Fauci elaborates, can critically impair a study from a practical standpoint.
"You have experiments that are going on for months, if not years, and then all of a sudden you have to stop," Fauci said in an interview that also touched on HIV research and the current spread of flu. "You can't push the pause button an experiment when you inject an animal with a particular substance to see what the response is, and then you have to go home for a week, two weeks, or three weeks."
This sort of scramble has happened before: Nature points out that during the 2013 government shut down the NIH had to reschedule the review of more than 13,7000 grant applications and put 80 percent of employees on leave. Technicians at federally funded animal facilities went to work unpaid in order to care for the thousands of rodents and primates who were a part of clinical studies, and scientists headed into offices to maintain the cell lines used to study biological processes.
Fauci says that they haven't halted their programs yet — you don't want to stop science unless the shutdown actually happens — but scientists are currently trying to make a game plan if they do get word at midnight of a closure. The possibility of a shutdown, primarily driven because of the disagreement between Republicans and Democrats over the Deferred Action of Childhood Arrivals (DACA) program, won't be nixed until a budget does pass. The longest recorded government shutdown happened in 1996 under President Bill Clinton, when it lasted for 21 days.