Less People are Traveling to the U.S., According to New Data
The U.S. travel industry is in a slump. Can a new coalition turn it around?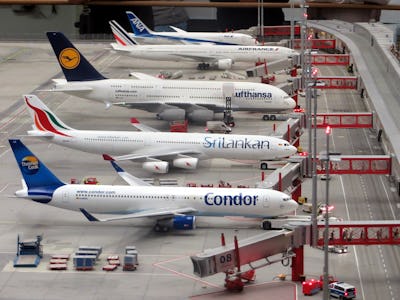 International travelers aren't booking trips to the U.S. like they used to, and it's threatening to derail the Trump Administration's economic growth goals. According to data from the U.S. Travel Association, since 2015 the U.S. share of global long-haul travel has decreased from 13.6 percent to 11.9 percent, though global travel volume increased overall by 7.9 percent in the same period.
This week, the travel industry has decided to address this decline and what to do about it with the launch of the Visit U.S. Coalition, a group representing thousands of travel and tourism-related businesses including the American Hotel & Lodging Association, the National Restaurant Association, and the U.S. Travel Association, among others. The coalition will seek to advise the Trump Administration on recommended policies and objectives to turn the industry back around.
Why Less People Are Traveling to the U.S.
Some are attributing the decrease in visitors to the "Trump Slump," which is the idea that President Trump's anti-foreigner rhetoric and immigration policies are keeping people away. But members of the coalition have instead cited a strong U.S. dollar, complex visa requirements, and low-cost air travel between other countries.
Through the Visa-Waiver Program (VWP), visitors from 38 countries are able to visit the U.S. without applying for a visa. However, new restrictions passed in 2015 made some major changes to the eligibility. Citizens from these 38 countries "who have traveled to or been present in Iran, Iraq, Libya, Somalia, Sudan, Syria, or Yemen on or after March 1, 2011 (with limited exceptions for travel for diplomatic or military purposes in the service of a VWP country)" and those "who are also nationals of Iran, Iraq, Sudan, or Syria" are no longer eligible for the program and must apply for a visa before visiting the U.S, confusing a complicating many travel plans.
Losing Billions
In the U.S., travel is a Top 10 employer in almost every state. By not maintaining its 2015 market share in travel, the country lost out on about 100,000 additional jobs and $32.2 billion in additional spending.
According to the November 2017 Trade report, spending by international travelers to the U.S. decreased by 3.3 percent from the pervious year, which translates to a loss of 40,000 jobs and $4.6 billion spent in the U.S. economy.
"After almost a decade and a half of relatively sustained post-9/11 recovery, since 2015 there's been evidence that the country has gotten complacent with the policies needed to support this vital economic engine and job creator," said U.S. Travel Association President and CEO Roger Dow in a press release. "Flourishing international travel is vital to President Trump's economic goal of sustained three percent GDP growth, and the Visit U.S. coalition is being founded for the express purpose of helping him achieve it."
Immediate plans to help alleviate the drop include a smoother visa processing and more welcoming messages to potential visitors, but no there's no word on what either of these initiatives would entail.