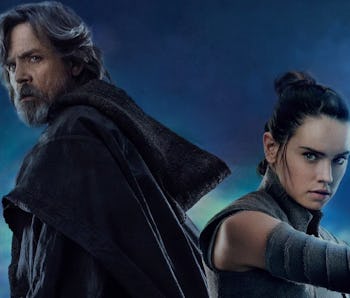 Entertainment
Like Mark Hamill, Daisy Ridley Also Had Concerns About 'Last Jedi' Script
Lucasfilm
Mark Hamill caused a disturbance in the Force when he, understandably, said he initially had some concerns about The Last Jedi's script. Hamill eventually came around to the movie, giving it a hearty endorsement, but it turns out he wasn't the only actor who initially had reservations about Rian Johnson's subversive Star Wars entry. Daisy Ridley, who plays Rey, recently recounted her own concerns, although she wasn't bothered by Luke Skywalker's descent into a milk-drinking hermit. Nah, Rey just missed her BFF.
"Well I, like Mark, had some reservations about the script," Ridley explained during a BAFTA Q&A. "I thought, 'Where is John [Boyega]? He's away from me, and I don't want to be away from him.'"
"Getting into something like this is pretty overwhelming, and John was my guy the whole way through filming and press stuff, and it was scary," Ridley continued, explaining how Boyega, who plays Finn, was her buddy during The Force Awakens. "It was really scary thinking about the next chapter with us apart. And I expressed that to Rian."
"Luckily we had a couple weeks to rehearse and we talked everything through. And, obviously, it's an ongoing conversation as we went. But I found it quite difficult, I remember saying to Rian I felt much more neurotic this time," Ridley said.
Ridley and Boyega had such charming chemistry in The Force Awakens, and it was a shame to see them separated for almost all of The Last Jedi, even if Johnson's story demanded it. To the director's credit, both Ridley and Hamill, who was also part of the Q&A, praised Johnson for pushing all the actors out of their comfort zones. It makes sense — so much of The Last Jedi was so different and unexpected from what audiences expected a Star Wars movie to be, so it's only natural that the actors involved were somewhat out of their element.