Luke Skywalker Actor Mark Hamill Clarifies His 'Last Jedi' Criticism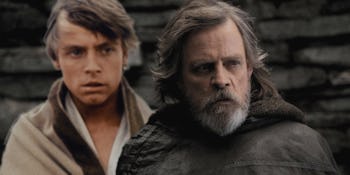 Disney/Lucasfilm
Mark Hamill is trying to restore balance to the Force in the wake of some critical opinions he shared about the newest Star Wars movie, The Last Jedi. In the lead-up to the film's release, the actor publically expressed doubts about the direction the film was taking, and in an interview that recently made the rounds, he went so far as to say that the movie's Luke is "not my Luke Skywalker." On Tuesday, though, Hamill attempted to quell the controversy.
"I regret voicing my doubts & insecurities in public," Hamill tweeted. "Creative differences are a common element of any project but usually remain private. All I wanted was to make [a] good movie. I got more than that — @rianjohnson made an all-time GREAT one! #HumbledHamill."
Now, it's entirely possible that Disney, acting in a manner that's very Empire-like, politely asked the star of their new tentpole movie to stop shitting on the blockbuster. There have been bigger flare-ups over smaller PR crises in the past, but it feels more likely that Hamill's comments are heartfelt.
Notice that in the tweet, Hamill doesn't apologize for having misgivings about where The Last Jedi was taking Luke. Instead, he regrets "voicing my doubts and insecurities in public."
As Inverse wrote when the "not my Luke Skywalker" interview started making the rounds, it's entirely reasonable for Hamill to be a bit dismayed about what happened to the iconic hero he played decades ago. If you were Luke Skywalker, the hero that generations looked up to, wouldn't you be a little upset to see him living as a sad hermit, chugging raw green milk?
But, in other interviews, including one which prompted Hamill to respond with his Tuesday tweet, the actor has said that he gets it. Something different needed to happen to Luke in order to make the story exciting and fresh for the next wave of heroes. The halcyon "happily ever after" ending Hamill probably imagined for Luke wasn't what the franchise needed. He understands that, but it doesn't make it sting any less. It's difficult to see your heroes fail. It's even harder when you're the hero.
So Hamill really liked The Last Jedi, in the end. He also had understandable misgivings about where it was taking Luke in the beginning. Both of those things can be true. Frankly, Hamill shouldn't feel like he needs to apologize for making those doubts public. It's a revealing look at the creative process, and combined with the wider fan reaction to Luke's Last Jedi fate, it goes to show how much people care about their heroes, even when it's hard.
The Last Jedi is currently in theaters.