These States Could Legalize Recreational Weed in 2018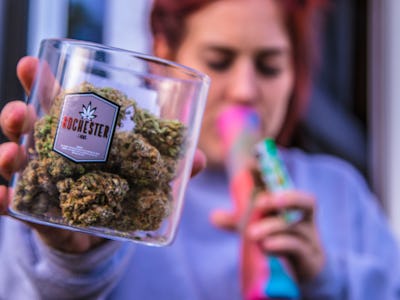 Unsplash / Alex Alexander
As of January 1, California began allowing the sale of marijuana to anyone over the age of 21. The move is expected to give a significant boost to California's marijuana farmers, distributors, and retailers; an industry that analysts estimate will be worth around $7 billion within the next few years.
Although California started off the year with the most buzz around bud, it's not the only state slated to legalize pot in 2018. The following states have either already legalized and are starting to transition into the commercial sale of weed or are poised to let citizens legally toke.
New Jersey
New Jersey's recently elected governor, Phil Murphy, has been an outspoken advocate of legalization. He'll be sworn in on January 16, and Democratic state Sen. Nicholas Scutari has concocted a bill that Murphy could spearhead, according to the Courier Post:
The bill would permit those 21 and older to possess up to one ounce of marijuana, 16 ounces of marijuana-infused products in solids, 72 ounces in liquid form and 7 grams of concentrate. It would prohibit home cultivation.
Murphy has promised to sign some iteration of legal weed legislation within 100 days of assuming office.
Maine
The state of Maine legalized recreational marijuana use in 2017, and they actually went a step further than California's one-ounce maximum by allowing adults 21 and over to possess two-and-a-half ounces of weed. There's a catch, though. The state legislature is still working out a legal framework for commercial production and sale of marijuana products. They're due to begin work on that starting January 5 — so we can definitely expect more marijuana news from Maine this year.
Vermont
Republican Gov. Phil Scott said in December that he is now "comfortable" with signing a legalization bill into law, likely in early January.
The law would likely offer only non-commercial legalization, allowing Vermont residents to possess small amounts of weed and grow a few of their own plants at home. Marijuana retail and distribution laws would likely come down the road.
Michigan
While Michigan has allowed medical weed use for nearly a decade, a ballot drive by legal marijuana proponents in 2017 paved the way for a state-wide vote on recreational use that's now slated for November 6, 2018. Michigan's proposed legislation would allow adult residents to possess up to 2.5 ounces and grow a maximum of 12 pot plants at home.
Rhode Island
In January, a six-person Cannabis Advisory Board is expected to make its recommendations on a legal pot bill. There is the hope that some form of legislation will pass by summer 2018, when commercial marijuana sales are expected to begin in Massachusetts.
Massachusetts
Speaking of which, as mentioned above, Massachusetts is slated to begin hosting retail marijuana establishments by July 1. The state voted to allow for the legalization of recreational pot use in 2016.