28 Memes to Explain Our Feelings About 'Star Wars: The Last Jedi'
The single most relatable character is obvious.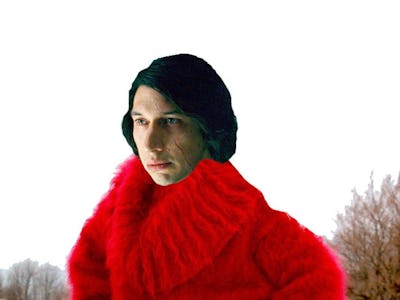 @courtenlow
Few things permeate pop culture quite like the Star Wars franchise, so it stands to reason that right after a new entry in the main saga comes out, we're bound to get a fresh bevy of meme content for the hordes to enjoy.
Rian Johnson's Star Wars: Episode VIII — The Last Jedi has proven divisive amongst fans for taking bold strides in some surprising directions. A lot of people loved it, many were confused by it, and a vocal portion hated it so much they're willing to make claims that they hacked Rotten Tomatoes with bots to undermine their rating system.
No matter where you stand on rating The Last Jedi, you can't deny that its story and characters are prime for some great meme content.
It goes without saying, but spoilers follow for Star Wars: The Last Jedi and some of the best funnies the internet has to offer about the movie.
Here are 28 of the best Star Wars memes that focus mostly on The Last Jedi:
Let's start with this always-relevant universal truth bomb about Star Wars.
To really get things going, here are a couple recaps of important funnies from The Force Awakens, beginning with the budding bromance of Finn and Poe.
Later on, the First Order destroys the Republic, but one alien had more pressing concerns.
Rey eventually found Luke and offered the blue lightsaber to him.
And on to The Last Jedi!
Here's a neat visual summary brought to you by The Simpsons.
Here's Part II of that.
Spoiler: Rey is very surprised by the Luke Skywalker she meets.
Poe makes an early joke that's just as laughably lame as the one from The Force Awakens about "Who speaks first?"
It was a genuinely funny moment.
Did you realize, by the way, that porgs are just penguins with different mouths?
In case you were wondering, yes, a vast majority of these great meme jokes make fun of Kylo Ren. There's everything from his musical talents while shirtless …
To his interesting fashion choices.
Don't worry, there's a second version of this joke.
But in all seriousness, we were all taken aback by that shirtless scene.
Some of us were skeptical.
But a lot of other people really liked seeing Kylo Ren shirtless.
He's not the only one who fans are thirsty for. That overeager "flyboy" Poe Dameron also stole a lot of hearts.
Another thirsty bunch were the "Reylos," the people who have shipped Rey and Kylo Ren as a couple since The Force Awakens revealed their weird, unnerving, but undeniable chemistry.
But did The Last Jedi really offer them any wins when they teamed up and then broke up?
People had strong feelings about Luke's badass display of power on Crait.
But, really, who saw Luke's astral projection coming?
Only the Skyrim fans out there will get this one, but if you do, it's worth it.
Among many things The Last Jedi does well is building out the universe with new creatures and worlds we can relate to.
Honestly, those nuns were the most relatable characters in the movie.
"We've come a long way from where we began / Oh, I'll tell you all about it when I see The Last Jedi again."
All in all, The Last Jedi is getting a lot of passionate, mixed reactions that can be delicately captured thusly.
In many ways, Rian Johnson subverted so much of what J.J. Abrams set up in The Force Awakens. With J.J. coming back for Episode IX, what could that mean?
Keep in mind, however, that Rian Johnson has an all-new trilogy on the horizon. Who knows, maybe it'll star Magic Broom Boy.
Star Wars: The Last Jedi is now out in theaters.