That Shirtless Kylo Ren Scene in 'Last Jedi' Is Actually an Easter Egg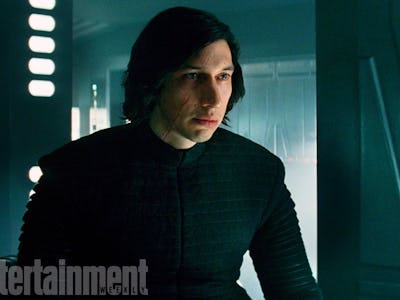 Lucasfilm, Entertainment Weekly
There are probably a lot of scenes from Star Wars: The Last Jedi now burned into your memory. One, in particular, is, um, a bit more exposed than the others, though.
This post contains gratuitous spoilers for Star Wars: The Last Jedi. Avert your gaze if you don't want to get spoiled.
In his attempts to draw Rey into his grasp, Supreme Leader Snoke creates a Force-fueled connection between Rey and his student, Kylo Ren. Several times throughout The Last Jedi, Rey's and Kylo's minds are thrown together into the same consciousness, able to see and touch and hear each other without ever really being in the same place.
If it wasn't obvious enough at first that this back-and-forth was being played up for sexual tension, the moment when Rey "walks in" on a shirtless Kylo Ren should have been the kicker.
"I'd rather not do this right now," a visibly flustered Rey says when their minds accidentally connect at one point.
"Yeah, me too," Kylo responds flatly. And, with perfect comedic timing, the camera drops in on Kylo, half naked and looking like he just got out of the shower.
It turns out Kylo's been working out. But while it's fun to play around with the sexy vibes of the moment as a slightly scandalized Rey asks if Kylo can put a shirt on, there's something else going on here. Because Kylo Ren is only the second character to ever appear shirtless in Star Wars. The other one? Kylo's grandfather, Anakin Skywalker.
Actually, Hayden Christensen's Anakin had two shirtless scenes in the Star Wars prequels, one in Star Wars: Attack of the Clones while on Naboo and the other, longer one in Star Wars: Revenge of the Sith while on Coruscant. Until Kylo, Anakin held the torch as the only half-naked dude to ever appear in Star Wars. And while Leia Organa (Carrie Fisher) was forced into a metal bikini against her will in Star Wars: Return of the Jedi, the circumstances of her situation are very different.
Kylo's and Anakin's scenes are raw and vulnerable. In the prequels, Anakin awakens at night (shirtless) after horrible, life-altering nightmares. Meanwhile, Kylo is seen shirtless in what we can assume is his private room aboard the Dreadnought by a girl — an enemy — a potential ally who suddenly shares the same mental space as him. Kylo, lost and confused in his own special, angsty way, hasn't had a person see him in such a vulnerable state in, well, a very long time.
Of course, this all falls perfectly in line with Snoke's plans to manipulate Kylo's and Rey's emotions, but it works out.
And, apparently, so does Kylo.
Star Wars: The Last Jedi is now in theaters.