SpaceX's "Recycled" Rocket Mission Ends With Spectacular Ground Landing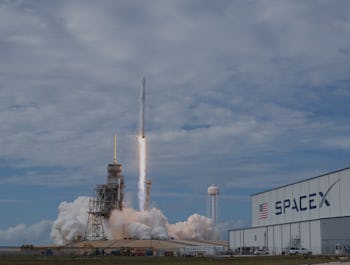 Getty Images / Bill Ingalls/NASA
SpaceX successfully launched and landed its Falcon 9 rocket carrying a reused Dragon capsule Friday afternoon from Cape Canaveral Air Force Station in Florida. This marks the 17th successful mission for the commercial spaceflight company this year.
This is a historic launch for both SpaceX and NASA as it is the first time both rocket and capsule are recycled from previous missions. The Falcon 9 booster in this launch was first used during CRS-11 mission this past June, while the Dragon capsule was first used during the CRS-6 mission in April 2015.
"You just saw the first stage [Falcon 9] land on LZ-1," said one of the SpaceX team members during the webcast. "That marks the second successful visit to and from space for this particular booster."
The Falcon 9 rocket lifted off on schedule at 10:36 a.m Eastern. It put the Dragon into orbit and successfully detached from the capsule at 10:39 a.m, and safely touched back down on Landing Zone 1, in Cape Canaveral Florida at 10:44 a.m. It is the site's eighth successful landing since the first attempt in December 2015.
The ability to reuse these capsules and rockets will save about $120 million, which is how much it'd cost to build another Falcon 9 and Dragon spacecraft. This launch was a monumental step toward realizing SpaceX founder Elon Musk's vision of fully reusable spacecrafts.
The payload was sent to the International Space Station (ISS) carrying 4,800 pounds of cargo for SpaceX's 13th commercial resupply mission (CRS-13). The Dragon spacecraft was carrying supplies crucial to the operations of the ISS, food and beverages for the crew, and 34 new experiments that will be conducted in the orbital lab.
The Dragon capsule is expected to arrive at the ISS on Sunday. The capsule doesn't go directly to the ISS, as it takes a series of burns to get closer and closer to the orbiting station. Once it's close enough, the ISS will use a robotic arm snatch it up and allow it to dock.
"You might have also seen the two pods on the side of the truck [of Dragon]," SpaceX firmware engineer Tom Praderio noted during the webcast to explain how the capsule will reach the ISS. "Those are solar panels. Currently they're folded up accordion-style agains the sides of the trunk. In a minute or so those covers are going to pop off and then the solar panels are going to extend, which gives the Dragon the power it needs to get to the ISS."
Rewatch the full webcast below.
Friday's launch comes after the deployment of Koreasat-5A on October 30th. The next launch will take place in January and will use SpaceX's Falcon Heavy booster, most powerful operational rocket.