How Elon Musk's Mars-Focused Moon Base Will Look: 'Future Needs to Inspire'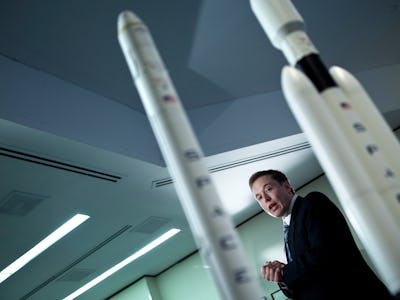 Getty Images / Brendan Smialowski
President Donald Trump wants to send humans to Mars, and Elon Musk thinks that's a great idea. The SpaceX CEO and founder has voiced his support for the idea of returning to the moon, stating that humanity really ought to have a base of operations there.
"It is high time that humanity went beyond Earth," he said on his Twitter page Wednesday. "Should have a moon base by now and sent astronauts to Mars. The future needs to inspire."
Musk has outlined his plans for a moon base before. Speaking at the International Astronautical Congress in Adelaide, Australia, in September, he outlined how the reusable SpaceX BFR — an abbreviation that includes the words "big" and "rocket" — could enable round trips to Mars by refueling from strategically-placed bases.
The rocket will enable SpaceX to build a moon base. Moon Base Alpha (a homage to British cult classic Space: 1999) would serve as an outpost for rockets.
At the conference, Musk also released concept art of how the base would look in practice:
Musk's tweet was accompanied by a news story about Trump's plan to get NASA back to the moon. On Monday, Trump signed a policy directive ordering the agency to facilitate getting astronauts on the moon and eventually, Mars.
"This time, we will not only plant our flag and leave our footprint. We will establish a foundation for an eventual mission to Mars and perhaps, someday, to many worlds beyond," Trump said in a press conference that marked the 45th anniversary of the Apollo 17 lunar landing.
SpaceX has plans for that as well. The company plans to run two uncrewed cargo runs in 2022, placing the bare essentials on Mars that would enable a manned mission further down the line. In 2024, SpaceX aims to send two crewed BFRs and two cargo-only BFRs to Mars, setting up a propellant production plant and enabling a refuel station so the crew can return to Earth.
Musk also shared concept art of how a future human-built Mars city may look:
Soon after posting the tweet, Musk rebuffed a suggestion that humanity should focus on Earth's problems first.
"Our existence cannot just be about solving one miserable problem after another," Musk said. "There need to be reasons to live."