'Last Jedi' Wishlist: Obi-Wan Kenobi's Force Ghost
Luke Skywalker needs help with all these younglings.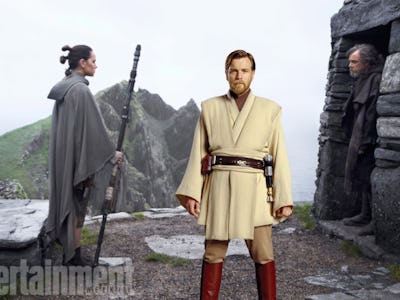 Lucasfilm
A great Jedi once said, "you're going to find that many of the truths we cling to depend greatly on our own point of view."
Here's my truth: The Jedi who so wisely said those words to Luke Skywalker, Obi-Wan Kenobi, should play a part in Star Wars: The Last Jedi as a Force ghost.
Inverse's Last Jedi Wishlist is a 15-part countdown to the next film in the Star Wars franchise. Ranging from the plausible to the "this is mostly a joke but that doesn't mean it wouldn't be great," this wishlist is a collection of the Inverse entertainment team's favorite theories and rumors about what to expect from The Last Jedi.
Next up: Obi-Wan Kenobi's Force ghost.
The following speculates on what could happen in Star Wars: The Last Jedi, meaning, if any of the following comes to pass, everything below of this could be considered a very intuitive spoiler.
Luke Skywalker, cliff-dwelling hermit extraordinaire, will supposedly spend quite a bit of time training Rey in the ways of the Force on Ahch-To near the beginning of The Last Jedi. Scared of the natural connection to the Force that Rey exhibits, Luke will pull away; she reminds him too much of his nephew, Kylo Ren, the boy who destroyed Luke's new Jedi Academy and broke his heart.
Due to all this, the Jedi have to end in The Last Jedi. That doesn't mean there can't be more Jedi in The Last Jedi. They're all dead — but Star Wars has a history of Force-fueled ghosts (meaning Obi-Wan's ghost) popping onto the scene to help at the last second. The only reason Luke didn't die in the snow on Hoth — besides, y'know, Han showing up in the nick of time — was because Obi-Wan's Force ghost reminded him of his greater Jedi purpose.
It feels fitting that Obi-Wan, Luke and Anakin Skywalker's mentor, would show up to help Rey through her training. Or, perhaps more fittingly, Obi-Wan might show up to put Kylo Ren back on the right track.
Now, there's no official evidence that Obi-Wan will return in Last Jedi. But there are a couple of important points to remember while we're dreaming about the spooky possibilities.
First, Rey already heard Obi-Wan's voice in Star Wars: The Force Awakens. An old Alec Guinness line from the first Star Wars trilogy was manipulated to sound like "Rey" in the vision and young Obi actor Ewan McGregor was brought onboard to say, "these are your first steps."
If Rey were to see Obi-Wan's ghost in Last Jedi, she'd be able to put a face to the voice she previously heard.
And second, Star Wars fans are clamoring to see McGregor — easily the most popular part of the prequel trilogy — as Obi-Wan again. While the rumored Obi-Wan standalone film has yet to be officially confirmed by Lucasfilm, McGregor is famously ready to wield a lightsaber again.
Plus, let's be honest, it would be amazing to see McGregor's Obi-Wan kick Kylo Ren's butt for letting down Luke and being such a brat.
Star Wars: The Last Jedi hits theaters everywhere on December 15. While you're waiting for the movie to arrive, visit Inverse every day to check out more entries in our Last Jedi Wishlist Series right here.