Apple Watch Relieves Cancer Patients of a Major Burden, Study Finds
The Mayo Clinic study has huge implications for the future.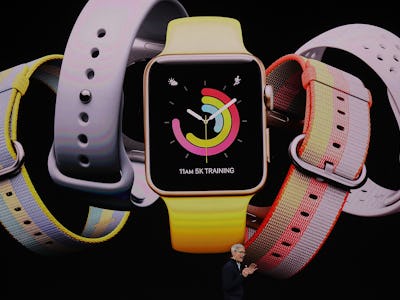 Getty Images / Justin Sullivan
If you're one of those people that still doesn't take emojis seriously, you might want to rethink that. The medical world certainly is, with new research from the Mayo Clinic that suggests that emojis can reveal important details about cancer patients' quality of life.
Traditionally, doctors use paper questionnaires to ask patients about their well-being, but these lengthy surveys can be burdensome for cancer patients to fill out and, on top of that, may be inaccurate. Wearable technology and emojis can make the self-reporting process easier, researchers announced this weekend in Atlanta at the American Society of Hematology's annual meeting.
Researchers recruited 115 patients with two types of cancer (lymphoma or myeloma) and life expectancies of less than five years that also happened to own an iPhone5s. If selected for the study, they were given Apple Watches. Then, researchers used a special app to collect baseline health data — and to enable participants to use emojis to express their physical/emotional states through treatment. The study was created using Apple's ResearchKit, described by Apple as a "software framework for apps that let medical researchers gather robust and meaningful data."
Apple has been ramping up its health-care related offerings in recent years, noticeably with the Apple Watch and the Health app launched with iOS 8 in 2014. This past fall, it was rumored that Apple might want to operate its own network of health clinics. What's for sure is that wearable tech is becoming useful for more than mere jogging and emojis are taking on new importance.
The Mayo Clinic study found significant associations between patient well-being and activity, as tracked by the wearables, and between patient well-being and emojis. Perhaps most importantly, it found that patients preferred this tech-enabled self-reporting to traditional methods.
Dr. Carrie Thompson, one of the lead researchers, is excited by the potential of emoji analysis to understand patient well-being. "Emoji are a near universal, popular form of communication, understandable by diverse populations, including those with low health literacy."
Meanwhile, of the wearable activity tracking aspect of the research, Thompson said, "In our study, we wanted to determine if wearable technology data could be correlated with traditional, validated patient-reported outcome measures in cancer patients."
She adds that further research is still required in the use of both wearables and emojis. However, Thompson is optimistic: "we believe this technology has the potential to improve the way we care for patients," Thompson said of the study. "In the future, it may be possible to monitor patient symptoms and communicate with patients between appointments via wearable technology."
Emojis are also experiencing a growing role in global health. There are new ones added every year, like the Pile of Poo💩 to the mosquito proposed by Johns Hopkins University's Center for Communications Programs and the Bill and Melinda Gates Foundation. The Unicode Consortium, the non-profit that chooses emojis for inclusion, is currently reviewing this proposal.
Additionally, hospitals and community health organizations are exploring new ways to use emojis to reach patients, with a number of NYC hospitals utilizing them to promote reproductive and sexual health.
And to all of that, we say, 🤓🤓🤓.