'Last Jedi' Cast Just Gave a Heartbreaking Tribute to Carrie Fisher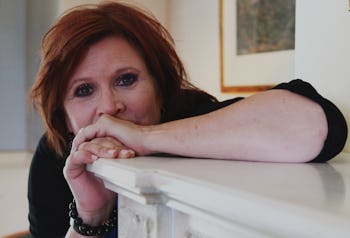 Getty Images / Brendon Thorne
For devotees, a new Star Wars film is a cause for celebration, but this year, that celebration is bittersweet. Though General Leia will appear in Star Wars: The Last Jedi, actress Carrie Fisher sadly passed away last year. And now, the cast of the new film has paid a small, subtle tribute to her absence. And the result, is naturally, heartbreaking.
On Friday, The New York Times published an insightful roundtable featuring the cast of Star Wars: The Last Jedi as well as director Rian Johnson. And in addition to a slew of new details about Luke Skywalker, Supreme Leader Snoke, Rey, Kylo Ren, Finn, Rose Tico, Captain Phasma, Poe Dameron and even General Hux, the cast managed to slip in a subtle nod to perhaps the most beloved character in the entire saga. The one and only Leia Organa.
Fans started noticing the tribute on Twitter on Friday afternoon. The cast photograph (plus Johnson) snapped by Jesse Dittmar, is clearly framed to create a gap in the middle. Basically, the cast created a physical space in this shot to honor the passing of Carrie Fisher.
Not only is it a brilliant photo of the cast, but the classiness of this tribute seems fighting of both Leia and Carrie Fisher. There's a no-nonsense element to this, which feels like something the late actress would have approved of.
This week, director Rian Johnson admitted that some post-production work for Carrie Fisher's dialogue proved to be challenging, but assured fans that everything worked out just fine. Still, for those who love Leia, there's still a question of what the future of Star Wars means without Fisher in the final installment of this new trilogy. Lucasfilm has admitted to having to "start over" with its plans for Star Wars: Episode IX, which seems to suggest the storyline for The Last Jedi was tweaked as well. But, what direction Leia's story would have gone in had Fisher lived will probably become a mystery lost to time.
For now, fans can look forward to seeing Leia in action one last time when The Last Jedi hits theaters next Friday on December 15.
Read Next: The Last Jedi Cast Talks About Plurals in the Title