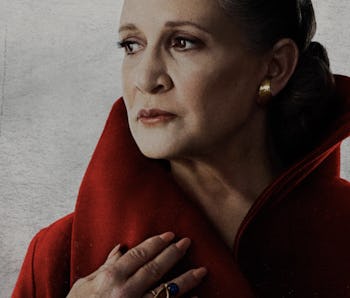 Entertainment
Some 'Last Jedi' Carrie Fisher Dialogue Almost Didn't Make the Cut
For the second time in two years, Carrie Fisher's appearance in a Star Wars film will be helped along by technological wizards. In Rogue One last year, Fisher's 19-year-old visage was recreated via CGI. But this year, for The Last Jedi, it's Fisher's voice that needed technical augmentation.
Don't worry, Leia will speak in Star Wars: The Last Jedi next week, but it took some behind-the-scenes ingenuity to make it happen. Because the beloved actress tragically passed away before completion of post-production on the film, director Rian Johnson was faced with problems he couldn't have possibly been prepared for.
On Wednesday, Rolling Stone published a roundup of important information they learned from their cast and crew interviews with everyone involved with The Last Jedi. And one detail revealed the fact that not all of Carrie Fisher's ADR dialogue was complete when it came time to assemble the final cut of the film. Meaning, editing all of her scenes for the movie was harder than normal.
For those who aren't Film Studies majors, ADR stands for Additional Dialogue Recording, a process by which actors re-record their dialogue in case the sound from their on-set performance wasn't quite up to snuff. This explains why you'll sometimes see a different version of a line-delivery in a trailer than in a film: Different sound "takes" can be used for the same scene. For George Lucas aficionados, the most infamous of these is probably connected to Indiana Jones and the Kingdom of the Crystal Skull. Indy inflects the phrase "part-time" differently in the trailers than in the movie, which means different ADR takes were used in the same scene.
But, when it came to The Last Jedi, Johnson told Rolling Stone they had less to work with. "We had to do a lot of sound work and that was kind of tough," Johnson explained. Though he did assure fans everything turned out okay. "We have a great sound team and we managed to pull her dialogue out and find little snippets from here and there and make it work."
So, Leia will speak and it will be Carrie Fisher's voice playing her in The Last Jedi. But, it sounds like this was a close call for Johnson and the rest of team, one worthy of the Rebel Alliance or Leia's scrappy Resistance.
For what it's worth, actress Shelby Young plays Leia in the animated series Star Wars: Forces of Destiny while Julie Dolan played Leia in the Star Wars Rebels episode "A Princess of Lothal." And Misty Lee voices the character in Star Wars: Battlefront II video game.
All did a great job recreating Carrie Fisher's performance, meaning if Star Wars movies are ever in a desperate hour of needing Leia voices, there's a few out there in the galaxy already.
Star Wars: The Last Jedi premieres in theaters on December 15. Check out all of Inverse's coverage on the film right here.