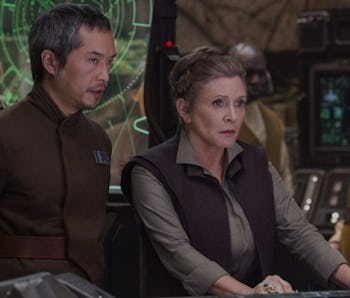 Entertainment
Carrie Fisher Would've Been the Main Heroine of 'Episode IX'
Lucasfilm
Han Solo might have taken the lead aboard the Millennium Falcon in Star Wars: The Force Awakens, and Mark Hamill's Luke Skywalker will play the leading man in the upcoming The Last Jedi, but the as-yet-untitled Episode IX was meant to be Carrie Fisher's turn at the helm. The film would've seen her long-beloved General Leia Organa taking charge, just as she was always meant to do. Fisher's tragic, untimely death in December 2016, though, changed everything.
Vanity Fair's cover story, a "definitive preview" of The Last Jedi, revealed on Wednesday that the famously, charmingly blunt Fisher demanded a lead role in Episode IX after finishing work on The Last Jedi. And, damn it, if she wasn't going to get her way.
"She was having a blast," Lucasfilm President Kathleen Kennedy said of Fisher. "The minute she finished, she grabbed me and said, 'I'd better be at the forefront of IX!' Because Harrison was front and center on VII, and Mark is front and center on VIII. She thought IX would be her movie. And it would have been."
It would have been a fitting role: Leia Organa finally taking the on-screen reigns after having led the Rebellion against the Empire in the original trilogy and then founding and leading the Resistance. The triumphant finale would have been Leia's through and through — with the help of the new kids, Rey (Daisy Ridley), Finn (John Boyega), and Poe (Oscar Isaac), of course.
But Fisher's unexpected death ripped the rug out from under her coworkers in more ways than one. Leia had a central role in Episode IX, and though Lucasfilm had already wrapped filming on The Last Jedi before Fisher's death — as Fisher will appear in all her glory in the film — the company was forced to change its plans for the final installment in its new trilogy. Its leading lady was gone.
Star Wars: The Last Jedi premieres in theaters on December 15.