Tesla Just Started Six More Battery Projects in Puerto Rico
The plan follows the successful deployment of a solar array at a children's hospital.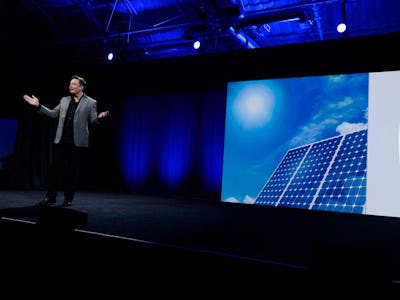 Getty Images / Kevork Djansezian
Tesla is bringing several more battery pack projects to Puerto Rico. The hurricane-struck territory has struggled with power issues after Maria wrecked infrastructure in October. As part of a larger restoration project, the government plans to improve capacity on the islands of Vieques and Culebra with six Tesla Powerpack systems paired with existing solar panel arrays.
"When the electrical system comes back into operation in Vieques and Culebra, Tesla's battery systems can help stabilize the network to avoid interruptions and reduce the cost of energy for businesses and residents," Ricardo Rosselló, Puerto Rico's governor, said in a local radio interview transcribed by Electrek on Tuesday.
The systems are being set up at key community points, like the Susan Centeno hospital, the Boys and Girls Club of Vieques, the Arcadia water pump station, a sanitary sewer treatment plant, and the Ciudad Dorada elderly community. The packs, which have a reported 500 kilowatt-hour capacity, will help 8,825 people in Vieques and 1,797 in Culebra.
The move follows the deployment of a solar and battery pack array to Hospital del Niño. Rosselló told Tesla CEO Elon Musk on Twitter that restoring power to Puerto Rico through a combination of solar panels and battery packs that store energy could become the company's "flagship project." Just 18 days later, the project came to life:
Beyond the hospital project, Musk also said that he donated $250,000 to help ongoing relief efforts.
After hurricanes swept through the southern United States and surrounding areas this fall, there has been a surge toward solar solutions as a way of protecting against power cuts. Unlike a giant grid system, which involves a single power plant supplying energy over wires, solar panels paired with batteries mean a more distributed grid that's better protected against bad weather.
"We've spoken to a couple of folks in these areas, and they're realizing the grid needs some help," Vikram Aggarwal, CEO of EnergySage, told Inverse in October. His solar price comparison site saw big spikes in traffic from hurricane-hit areas. "Our grid is old, it's the hub-and-spoke structure, and it may be time to think about more distributed generation and storage."