Gifts that Will Make the Teen in Your Life Think You're Cool
Here's how to score points with your favorite teen.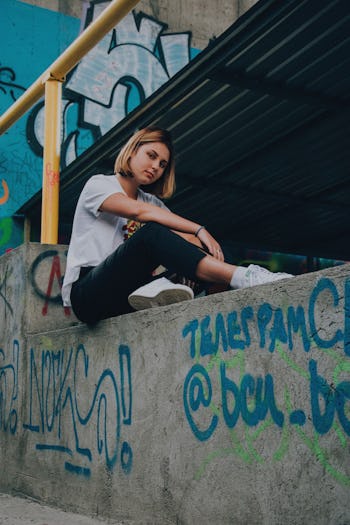 Unsplash / Daniil Avilov
Teens are generally ahead of the curve when it comes to taste — which can make them especially hard to shop for. Luckily, Inverse has taken a deep dive into all things teen in order to help you find a certifiably "cool" gift in time for the holidays — saving you from having to admit that you have finally become irrelevant.
Whether they're attempting to learn how to code (who isn't?) or upping their status as a movie buff, here are some gifts they won't toss out, or worst… subtweet you about.
Jewelbots
Jewelbots are the friendship bracelets that put a new spin on teens staying connected. The smart jewelry is meant to be worn and connected to each other by best friends.
"They are designed to delight and pique curiosity, and it's pretty easy to get sucked in once you get going," co-founder and CEO of Jewelbots Sara Chipps tells Inverse.
This includes building games for the bracelets through Jewelbots' coding program that also teaches teens programming. $69 per bracelet.
MoviePass
The company that's making going to the movies affordable again is offering special gift cards for the holidays. You can gift your teen a three, six or 12 month subscription to Movie Pass at an affordable price. They'll get into the movies for free and spend their hard earned cash on the all-important popcorn. Three months for $29.85, Six months for $59.70, or a year for $119.40
iTunes or Google Play Gift Cards
Whether your teen is into Cardi B, Chance the Rapper, or some obscure band you've definitely never heard of, music gift cards will keep you covered. Not only can they purchase music and movies with them, they can also use them on those addicting in-app purchases.
Actual Records
For vinyl-crazed teens, there's nothing better than than a cold, hard platter. You can shop online at Rough Trade or Discogs, if you're looking for something super rare. But if you want the teen to decide what they're spinning, a subscription to Vnyl can give them access to new records each month, chosen just for them based on their ~vibe~. Plans start at $35 per month for three curated records.
A Turntable, While You're At It
What better (or worse) way to push a teen into DJ-ing than with a turntable. The 2017 version of the classic is aptly named TRNTBL, AKA "the first Bluetooth turntable that streams high-quality audio." TRNTBL's built-in social features will also make sure teens' record spins is a communal experience via integration with Bluetooth, Sonos speakers and Spotify through its app. $499
Sensel Morph
For the artistic teen, the Sensel Morph is a multi-touch, pressure sensitive track pad that can create imagery, music or games. The Sensel device puts an innovative spin on creative tools, to get teens ready for their inevitable art school enrollment. $299
Books!
For the broody, intellectual teens in your life, a gift card to their favorite bookstore is the way to go. And if they've got a reader device, gift them with credits for their Kindle or Nook.
Instant Camera
Polaroids are all the rage these days, and every teen worth their salt (or Instagram followers) seems to have one. Grab a Polaroid POP Instant Print Digital Camera for your budding teen photographer and watch the likes roll in.
Bitcoin
When all else fails, bitcoin is the way to go. The hottest cryptocurrency this holiday season could also make for a pseudo starter college fund? While we can't predict its market, we have to say…springing for bitcoin will surely have their group chats talking. You can purchase Bitcoin through the official Coinbase site here.
Please note these links have been autonomously chosen by our editorial team, and in some cases, Inverse may receive a portion of the purchase.