'Bears Ears' Isn't the Only National Monument Trump's Plan Will Crush
Twenty-four other sites are under threat.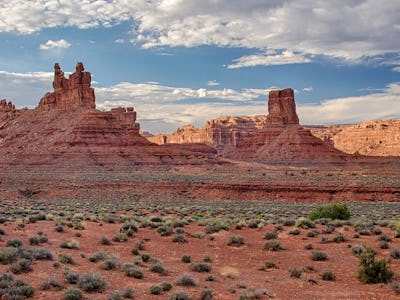 Bureau of Land Management
On Monday in Salt Lake City, a five-hour drive from the pair of pointed red-stone mesas that marks Bears Ears National Monument, President Donald Trump delivered a death sentence. At Utah's state capitol, Trump announced he would dramatically scale back the borders of the 1.35 million-acre desert park, which were first established by President Barack Obama in 2016 in order to protect thousands of archaeological sites, historical artifacts, and tribal grounds in the area. Trump's move, which some are contesting as illegal, opens up the land to mining, logging, and oil and gas drilling.
"Together, we will usher in a bright new future of wonder and wealth," said Trump. The new order shrinks Bears Ears to 220,000 acres, just 15 percent of the original size designated by Obama.
This decision marks what is likely to be the first of many milestones in a process that kicked off in April, when Trump signed an executive order commanding Interior Secretary Ryan Zinke to review all of the national monuments created since January 1, 1996 that are over 100,000 acres in size. The plan threatens to undo the work of past leaders who invoked the Antiquities Act, a 1906 law signed by President Theodore Roosevelt that allows presidents to federally protect land that is home to natural resources or cultural and historic artifacts.
"The Antiquities Act does not give the federal government unlimited power to lock up millions of acres of land and water, and it's time that we ended this abusive practice," Trump said in April. Doubling down on his argument that federally protecting land withholds precious resources from Americans, he said Zinke's review would "end these abuses and return control to the people, the people of all of the states, the people of the United States."
Twenty-five existing national monuments fit the criteria of the review. Bears Ears was the first to be condemned, and the nearby Grand Staircase-Escalante National Monument succumbed immediately after. President Bill Clinton designated Grand Staircase-Escalante during his administration, protecting 1.9 million acres of land. Trump's plan will cut it down to 1 million acres.
Other national monuments threatened by the review include the Grand Canyon-Parashant in Arizona, the Giant Sequoia in California, Colorado's Canyons of the Ancients, and Nevada's Gold Butte. Most of the federal land that has been protected by the Antiquities Act in recent years is in the West.
Zinke's land-crushing conclusion may seem surprising to those who followed his career before he was selected as Trump's Interior Secretary. In June of 2015, Zinke, then a Republican congressman from Montana, used to be very outspoken about his refusal to sell federal property to private companies. "The federal government needs to do a much better job of managing our resources," Zinke said in June of 2016, when he voted against the State National Forest Management Act of 2015, which would have released up to 2 million acres of National Forest System land to each state for timber production.
"I'm starting to wonder how many times I have to tell these guys in leadership I'm not going to allow Montana's public lands to be sold or given away," he said. "We use our land for hunting, fishing, hiking, and to create jobs. Our outdoor economy is a billion-dollar economic engine for the state that creates jobs." Since then, Zincke seems to have been convinced otherwise.
Environmentalists, native tribes, and some 2.8 million people who submitted public comments during the Department of the Interior's 60-day comment period are actively contesting Trump's decision, many of whom are calling it illegal. The legal situation, however, is murky — and has been for a long time.
"The Antiquities Act expressly authorizes the President to create a national monument, but it does not authorize a later President to revoke or modify a national monument," said Professor Carl Tobias of the University of Richmond School of Law in an interview with NPR in April. That view isn't shared by all legal experts, though. Past presidents have successfully shrunk national monuments — Franklin Roosevelt shaved off parts of the Grand Canyon to appease ranchers — suggesting that Trump may legally be able to have his way.