Ryan Zinke Shuts Down Idea of Selling Federal Land with One Quote
He won't be Trump's whipping boy ... kinda.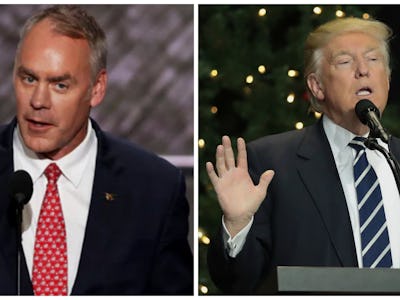 Getty Images / Alex Wong
Ask anybody, Ryan Zinke does not fuck around with government land. The Republican congressman from Montana has repeatedly voted against proposals to sell federal property to private companies, which means Donald Trump, who has reportedly chosen Zinke to lead the U.S. Department of the Interior, might be in for a surprise.
"The federal government needs to do a much better job of managing our resources," Zinke said when he voted against the State National Forest Management Act of 2015 in June. "But the sale or transfer of our land is an extreme proposal, and I won't tolerate it." Zinke was one of just eight Republicans who sided with Democrats in opposing the bill.
That stance would put Zinke at odds with Trump's plan to sell government land to reduce the national debt. It makes sense that a real estate mogul — who also happens to be a failed university owner and sexual assault braggart — would think selling land could take care of $19 trillion in debt.
It would also make sense for Trump to elect someone who agrees with him to public office. That's what he did when he chose a climate change denier for head of the Environmental Protection Agency and a noted anti-regulation analyst for the Federal Communications Commission, after all, so why not do the same thing here?
But that doesn't sit with Zinke's stance on selling federal property: "I'm starting to wonder how many times I have to tell these guys in leadership I'm not going to allow Montana's public lands to be sold or given away," he said in June. "We use our land for hunting, fishing, hiking, and to create jobs. Our outdoor economy is a billion-dollar economic engine for the state that creates jobs."
If Trump puts Zinke in charge of the DOI, as he reportedly plans to do, Zinke could make that position clear once and for all. The DOI manages almost 400 national parks and monuments on 500 million acres of federal public lands — it's like Parks & Recreation without all the dysfunction and on a much larger scale than a single Indiana town.
Just don't expect Zinke to fight Trump on every issue. The League of Conservation Voters gives him just a 3 percent approval score because he often votes in favor of coal, oil, and gas. He also co-sponsored a bill in support of the Keystone XL pipeline. That would create jobs, sure, but it also wouldn't be good for the environment.
Still, at least it seems Trump will have at least one "no man" in his cabinet.