5 Very Important Questions About Elon Musk's Tesla to Mars Idea
How's he going to do this, exactly?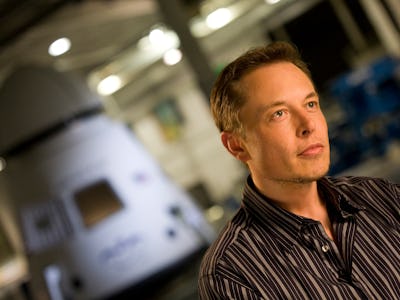 Flickr / OnInnovation
SpaceX CEO Elon Musk posted a ridiculous Friday Night Tweet that in the cold light of Saturday morning, we should probably take seriously for the bonkers idea that is.
Essentially, Musk softened the blow that his Falcon Heavy rocket launch is being delayed to early 2018 with surprise news about the predicted "silly" payload for the maiden launch of the huge rocket:
"Payload will be my midnight cherry Tesla Roadster playing Space Oddity. Destination is Mars orbit. Will be in deep space for a billion years or so if it doesn't blow up on ascent."
This is a lot to unpack:
1. His car is going into the payload fairing, that cone at the top of the rocket you see below.
2. The car's stereo will play David Bowie's classic about Major Tom. (I dare Musk to prove this somehow.)
3. Mars orbit, sure. How do they set the destination for a car? Will it be in a traveling capsule?
4. The Tesla Roadster will be in deep space for a billion years, but is there a way to track its location? Also, a billion years? Why not just call it infinity?
5. The whole thing may blow up during the launch. Nice.
The Falcon Heavy Rocket, which is essentially three Falcon 9 rockets connected, for a total of 27 rocket engines all firing simultaneously — the same rocket that is supposed to send two still-unnamed people on the first leg of their boomerang trip around the moon next year — will start by launching Elon Musk's car on a bizarre journey to Mars. This whole thing feels like it should be in an Alexander Payne movie.
The delay in the test launch of this rocket has gone from September to November to now early next year. Musk said there were complications in the engineering — you can't just Duct Tape three rockets together for more power; a lot goes wrong with that much concentrated energy — of the big rocket. Earlier this week, SpaceX president Gwynne Shotwell said the test launch could be in January: "We wanted to fly Heavy this year. We should be able to static fire this year and fly a couple of weeks right after that."
Musk memorably said in June that the rocket could very well blow up:
"There's, like, a lot that can go wrong there," Musk said before encouraging people to come down to Florida to watch the launch. "It's guaranteed to be exciting."
When the Falcon Heavy launches in January from the same launch pad from which Apollo 11 lifted off in Cape Canaveral, Florida, it will be the largest working rocket in the world by more tha double the energy (there are other bigger rockets in the works, of course.)
Musk doubled down on his June comments in another tweet on Friday night about the launch in a few weeks: "Guaranteed to be exciting, one way or another."
Finally, it seems that David Bowie's "Space Oddity" seems to the be default song for space, also a favorite of Canadian astronaut Chris Hadfield: