Elon Musk Reveals When SpaceX Falcon Heavy Rocket Will Launch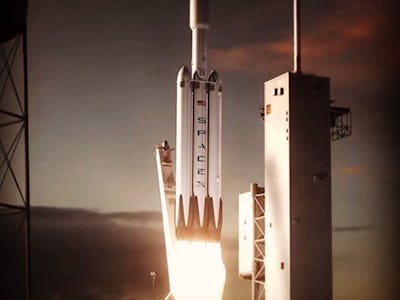 YouTube user: SpaceX
We may finally, finally, know when SpaceX's Falcon Heavy rocket is going to launch: On Thursday, SpaceX CEO Elon Musk took to his own Instagram to announce that the test-launch will occur in November.
"Falcon Heavy maiden launch this November," Musk wrote.
When Falcon Heavy takes off, it will be the biggest and most powerful operational rocket in the world. SpaceX plans to have it carry two tourists around the moon in 2018.
Everybody's been trying to figure out when the highly-anticipated demonstration launch will occur, because the schedule's been all over the place. Originally the mission was supposed to happen way back in 2013. That became spring 2016, then late 2016, then early 2017, and then late summer 2017. Most recently, Musk said that the launch could happen in September.
In June, Bloomberg speculated, based on all previously announced data that the launch would happen on September 22, 2017 — but then changed its mind and said December 31, 2017.
Well, as rarely happens for Elon Musk's projects, SpaceX may complete its goal ahead of estimates: November is a whole month before Bloomberg's latest guess (though, of course, two months after Musk's own last suggestion).
Frustrating as they are, of these delays are understandable when it comes to a unique and incredibly complicated rocket like the Falcon Heavy. Plus, an accidental explosion on the launch pad from which it's going to take off didn't help matters.
Even if the Falcon Heavy mission does take place in November — please, let this finally be the real date — that doesn't necessarily mean that we'll see a successful launch then. The rocket requires 27 orbit-class engines to simultaneously ignite, and that's not something that's possible to simulate in a test on the ground (though Falcon Heavy's latest static fire test did go well).
At the ISS R&D Conference in Washington, D.C. last week, Musk was brutally honest about the Falcon Heavy's odds of success.
"There's, like, a lot that can go wrong," he said. "Real good chance that that vehicle does not make it to orbit."
Here's the full exchange from the ISS R&D conference: