SpaceX Finally Reveals When It Will Launch its Long-Awaited Giant Rocket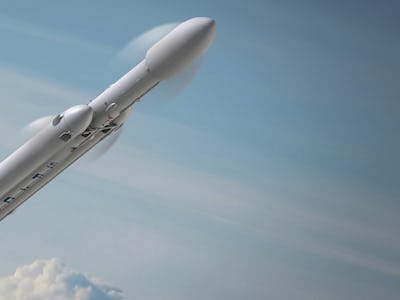 SpaceX
Though it's just about to wrap up its best year ever, SpaceX missed one glaringly large goal: the maiden launch of its Falcon Heavy. Now, the aerospace company seems to have pushed the big day yet again — but this time, it might actually happen. And a former SpaceX spokesperson tells Inverse the launch will be a huge step for the company — and American innovation in general.
This week, SpaceX president and chief operating officer Gwynne Shotwell gave Aviation Week some details about the Falcon Heavy launch.
"We wanted to fly at least 18 times (in 2017)," Shotwell said. "We are at 16 and have a good shot at two, maybe three more. We wanted to fly Heavy this year. We should be able to static fire this year and fly a couple of weeks right after that."
When it launches, the Falcon Heavy will be the "most powerful rocket in the world." Its first stage is made up of a combined three Falcon 9 engine cores and 27 Merlin engines. That alone will generate "more than 5 million pounds of thrust at liftoff," according to SpaceX.
Phil Larson, former SpaceX official and Obama space policy advisor, tells Inverse the Falcon Heavy launch will be well worth the wait.
"Anytime you have a new rocket launching, you're going to learn a lot," Larson says. "The capabilities gained by a heavy lift vehicle like this one will help open the solar system to even more exploration."
The Falcon Heavy has had a bit of a tumultuous timeline. It was first announced back in April 2011 at a news conference in Washington, D.C., with a tentative launch date set for 2013. Because of a few failures with some Falcon 9 rockets, the Falcon Heavy debut was pushed again. Even Elon Musk admitted this summer that SpaceX was a bit too ambitious with its original goal.
"At first it sounds really easy to just stick two first stages on as strap-on side boosters. But then everything changes," he said at the International Space Station Research and Development conference in July. "We were pretty naive about that."
Thus, SpaceX bumped the Falcon Heavy launch to this November. Clearly, the company didn't hit that goal either — but with a new year brings new hope for the big ol' rocket.
"American innovations like Falcon Heavy are partly due to strategic partnerships forged years ago," Larson says. "The country gains a new capability that is being lead by private investment. That's why this is a big deal."
Although SpaceX plans to phase out the Falcon Heavy and its Falcon 9s to focus on its BFR (Big Fucking Rocket), the Falcon Heavy's maiden launch will be an extraordinary milestone for the company.
It just needs to get off the ground first.