'Hellboy' Reboot Release Date Confirmed, and It's a Hellish Wait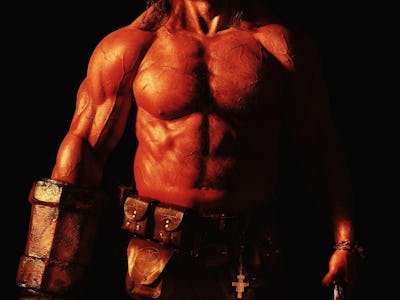 Lionsgate
The highly anticipated Hellboy reboot may no longer have a dope subtitle (Rise of the Blood Queen), but now the film has an official release date. According to Lionsgate, the studio behind the new movie based on Mike Mignola's popular Dark Horse Comics character, Hellboy will hit theaters on January 11, 2019.
The Thursday announcement is the latest in a slow-but-steady trickle of news about the upcoming movie, the first Hellboy film not to star Ron Perlman as the titular demon. The 2019 Hellboy instead stars Stranger Things's David Harbour, and is by all accounts going to be a darker, R-rated endeavor. Directed by Neil Marshall, who is best known for some of Game of Thrones's greatest episodes, Hellboy will also feature Milla Jovovich and Ian McShane.
There was some controversy surrounding the film towards the end of the summer when Lionsgate cast Deadpool villain Ed Skrein as Major Ben Daimio, a Japanese-American character. Skrein, a white actor, quit the movie rather than play the whitewashed role following fan outcry. Hawaii Five-O star Daniel Dae Kim was cast as his replacement, so the whole thing ended about as well as any whitewashing controversy can be expected to, really.
Sasha Lane, Penelope Mitchell, Sophie Okonedo, Brian Gleeson, and Alistair Petrie round out the cast.
Slashfilm notes that the early 2019 release date had previously been reported, but the studio said the date was wrong.
It's unclear if anything has changed or if that was just a ruse, but in any case, you can expect to see Hellboy in a little over a year, contrary to earlier speculation that it would have a 2018 release date. If it's any consolation, there was another R-rated comic book movie that opened in the winter, typically a bad stretch for movies, and that one was pretty well received…
Hellboy will premiere in theaters on January 11, 2019.