Ian McShane Will Play Beloved 'Hellboy' Character in Reboot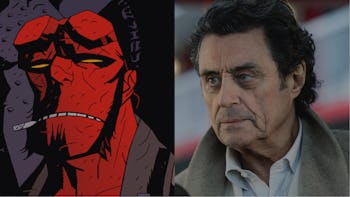 Dark Horse Comics, Starz
From the heavens above to hell below. Following his starring role as Mr. Wednesday in the first season of Starz's American Gods, Ian McShane will play Hellboy's stern but kind foster father, Professor Bruttenholm, also known as "Professor Broom," in the upcoming Hellboy reboot, Hellboy: Rise of the Blood Queen.
On Tuesday afternoon, The Hollywood Reporter reported that McShane has signed on to director Neil Marshall's reboot, joining new Hellboy actor David Harbour (Stranger Things). In the comics and the two films from auteur Guillermo del Toro, Professor Broom — played by John Hurt — was Hellboy's human foster father. An expert in the occult, Professor Broom was an advisor to President Roosevelt during World War II and was present when the Nazis attempted to raise a demon to turn the tide of the war, only to summon a much younger demon instead. Bloom took in the demon, named him Hellboy, and raised him on a diet of Baby Ruth bars and TV.
McShane, a prolific actor from the UK whose first significant roles in the United States were in the TV shows Dallas and Roots, is currently known to genre buffs for playing the enigmatic Mr. Wednesday in American Gods, the live-action adaptation of Neil Gaiman's 2001 novel of the same name. McShane has also had a significant role in the John Wick films as Winston, the no-nonsense figurehead of the Continental, the global agency of contract killers headquartered in New York City.
Hellboy: Rise of the Blood Queen is slated to begin shooting this September in the U.K. and Bulgaria. Marshall has repeatedly mentioned that his reboot will be darker and lean towards a hard R-rating.