Why Is It Called Black Friday? How the Day After Thanksgiving Got Its Name
The details are a bit fuzzy, but the real story probably isn't the one you were told growing up.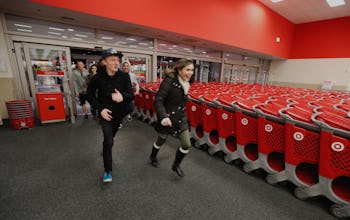 Getty Images / George Frey
Retailers have long dropped the big bucks for their Black Friday ads and you've probably already scoped out which deals and doorbusters you're willing to fight thirsty shoppers for. But why do we call it "Black Friday"?
The popular explanation for the name comes from the idiom "in the black", used to refer to a company that turns a profit when all finances are accounted for. The day after Thanksgiving has signaled the beginning of Christmastime holiday shopping well before Black Friday discounts were even a thing, and retailers naturally see an annual uptick in sales during this time. The earliest documented use of the moniker was in 1981 to denote positive revenue.
The term, however, was prevalent before the 1980s, but not as far back as the 1800s, as a notorious false myth suggests, to refer to a post-Thanksgiving sale on slaves. The general consensus is that "Black Friday" comes from the Philadelphia police department in the '60s. Officers used it to refer to the day after Thanksgiving, when people descended on Philadelphia in droves for shopping and the annual Army-Navy football game, the Billy Penn reports. Police were not allowed to take the day off that Friday or Saturday, so that they could deal with the traffic jams and crowded sidewalks. The term took on a "derisive" connotation as police bemoaned the two days after Thanksgiving, according to Snopes.
The term didn't gain nationwide attention until police beat reporters at the local paper, the now-defunct Philadephia Evening Bulletin, got ahold of the police department's expression and used it on their paper's front page to refer to the post-Thanksgiving traffic situation. The term was picked up by TV stations and spread from there to its use today.
So remember that those crowds you see on "Black Friday" are nothing new and are also all the more reason to shop online. But if you've already made your game plan for your Black Friday takedown, good luck and plan accordingly.