Wireless Headphones With a Built-In Mic, HD Sound That Only Cost $37
These tune jockeys deliver exceptional HD sound sans the pesky cables.
by Inverse Loot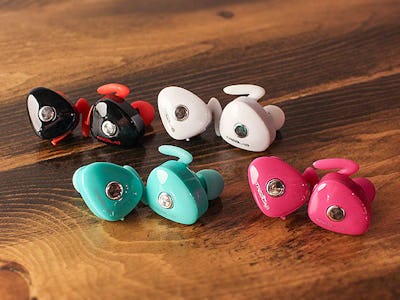 Not too long ago, we all thought that wireless earphones were a ridiculous concept. But now, thanks to Bluetooth technology, we can finally enjoy wireless sound. With that being said, considering that we have an overly saturated Bluetooth earphones market, how does one choose which one is best?
Tiny and discreet, yet amazingly powerful, the TREBLAB X11 Earphones define what it means to be top-notch wireless tech. These tune jockeys deliver exceptional HD sound sans the pesky cables. They're armed with incredible features like passive noise cancellation so you can enjoy clarity even in noise-polluted areas, and they're even equipped with a built-in mic so you can easily make calls on-the-go.
These truly-wireless earphones are also sweat-proof and packed with six hours of battery life, making them perfect for active use. And with a signal range of 39 feet, you can listen to your favorite tunes for hours on end. Not to mention, their durable fins offer a comfortable, snug fit so you don't have to worry about ever losing them.
The impressive TREBLAB X11 Earphones usually retail for $199.99, but for a limited time, you can pick them up for only $36.99, 81 percent off the original price! Beat that, Apple!
Inverse may receive a portion of sales from the post above, which was created independently from Inverse's editorial and advertising team.
Check out this video about headphones that monitor your brainwaves to keep you focused.