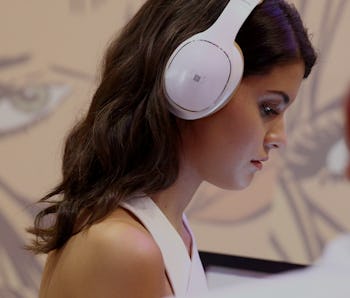 Culture
Sorry Haters, Bluetooth Headphones Are the Future
Bluetooth headphones have overtaken non-Bluetooth ones in U.S. revenue.
Getty Images / Imeh Akpanudosen
If you hate Bluetooth headphones, you might wanna keep it to yourself. For the first time ever, the amount of money spent on Bluetooth headphones in the U.S. has overtaken the amount spent on their traditional counterparts. Sure, they need charging and connecting, but the wireless wonders are getting cheaper, cooler, and smarter, and it looks like they're gonna be the future.
According to a report published by The NPD Group on Thursday, Bluetooth-enabled devices accounted for 54 percent of U.S. headphone revenue in the month of June. In the first half of 2016, revenue for wire-free increased a staggering 42 percent year over year.
There are a lot of reasons why there may be such a big jump. The iPhone 7 is expected to ditch the headphone jack when it launches later this year, while Android phones like the Le 2 and the Moto Z have already said goodbye to the 3.5mm port. Bluetooth is standard on practically every smartphone, so buyers can feel confident that their shiny new purchase will work even if they upgrade handset later.
There are some big benefits to going Bluetooth. Beyond the obvious cool factor of no wires, the built-in battery can be used to power noise-cancelling technology at the same time. Wired noise-cancelling headphones exist, but there's the lose-lose of having to charge them and still dealing with wires. Some Bluetooth headphones can also hook up to smartphone apps to fine-tune the audio, like the Parrot Zik.
Bluetooth headphones are also getting cheaper. Average sales price in the first half of the year decreased by 5 percent year after year. A wider choice is chiming with customers, who are buying Bluetooth headphones priced at $50 or less in droves. In the first half of 2015, those ultra-cheap options only accounted for 16 percent of Bluetooth sales. This year, they accounted for 30 percent.
For now, though, non-Bluetooth versions are still selling the most in terms of units. Bluetooth headphones only counted for 17 percent of actual products sold, so while consumers may be putting more money into Bluetooth headphones, it could take a while before they can catch up with traditional earphones on sheer quantity.
"Promotions and new product introductions have helped spur the growth we are seeing in Bluetooth headphones," said Ben Arnold, executive director, industry analyst for The NPD Group. "Consumers are already embracing a wireless future and if, as rumored, the headphone jack is removed from the next iPhone, we expect this will continue to drive market share of the Bluetooth category."