5 Ways Your iPhone 7 Headphones Will Improve
The lack of a headphone jack could bring a lot of benefits.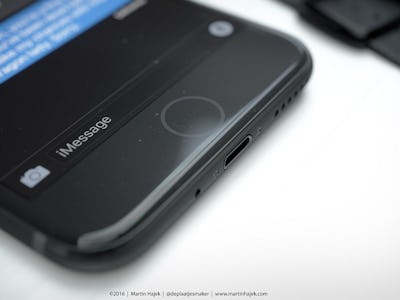 Martin Hajek
Here's a fun experiment to play with your friends and family this Independence Day weekend. Ask someone how often they use their headphones and if they would buy the iPhone 7 if it had no standard headphone jack. Then stick in this caveat — "what if the included headphones could give you bionic hearing?"
That future is actually more possible than it sounds. If the rumors that have all but been confirmed by The Wall Street Journal are true, then Apple is in fact ditching the standard 3.5 mm headphone jack that we've all come to know and are planning to replace it with the single lightning port already at the bottom of most iPhones today.
While it would be better if that lightning port was a USB type C port, there are still a lot of cool features these new connections could bring to future headphones that could justify making all your current headphones somewhat obsolete.
Thanks to the combined powers of Apple's stellar engineering team and the folks over at Beats, which Apple bought in 2014 for $3 billion, there's a lot of reason to believe they could deliver.
Here are 5 innovations that will turn your headphones into a computer.
5. Siri in Your Headphones
Technically, you can already tap the middle button on Apple's earbuds and summon Siri, but that essentially just activates the microphone. Lightning cables allow for more data to transfer between the two devices and one could imagine greater communication between the two devices to provide machine learning solutions to some of our most basic problems.
Since A.I. is still so early in its development it's not clear what those benefits would be, but speculatively, one could imagine GPS tracking that automatically adjusts volume based on whether you're in a subway, in a car, or on a secluded street. More data makes everything smarter.
4. On-The-Go Hi-Fidelity Streaming
True audiophiles will tell you those high quality over-the-ear headphones require a digital-to-analog converter (DAC) to really draw the best sound out. With a lightning cable connector, Apple could build a lot of that same functionality directly into the cable and you wouldn't have to buy one of Neil Young's over priced Pono Players.
3. Bionic Ear Optimization
Ear Bud manufacturers Even recently released lightning cable ear buds that claim they can tune themselves to your ears in order to better correct for natural deficiencies in hearing. We don't typically think of our hearing as different from person to person, but we all have naturally different ears just like we have different vision. We also damage our hearing over time from those loud concerts and turning our earbuds up to full volume too often. More headphones like Even's could only benefit the aural health of consumers.
2. Sound Cancelling
Has this happened to you? You're listening to music on your noise cancelling Bluetooth headphones during your commute and as soon as you leave your home that notification sounds for low battery.
With lightning cable headphones users can draw battery straight from the phone rather than have to constantly charge the internal device, effectively eliminating those frustrating moments. Even if you don't take advantage of noise cancelling it would be nice to have a cable that can turn your Bluetooth headphones into wired ones for those moments.
The argument against is to simply carry wired headphones around all the time, but most people already have to travel with a phone charger everywhere they go, and so long as your phone and headphone chargers are compatible, it's no extra inconvenience to the user. 
1. Customization
Specific levels of EQ (the treble, bass, and mids in the sound) can more easily be customized through the cable. The EQ can be written directly into the headphones rather than the iPhone itself and users can set two presets for different scenarios. The Audeze EL-8 Titanium Closed-Back Headphones offer this kind of functionality, but they are well out of reach for most consumers at $799.
This has obvious benefits for people who edit audio in a variety of settings, but there's a more practical use for normal consumers such as someone desiring a more mild setting for work but really crank the bass during a workout.