Here's How to Win Black Friday 2017 (Without Losing Your Mind)
Shoppers, start your preparation engines.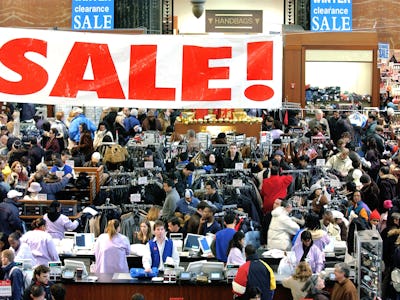 Getty Images / Stephen Chernin
You can pray on your lucky Thanksgiving wishbone as much as you want, but the truth is, you're probably not going to stumble on the best Black Friday deals by happenstance. This grandaddy of all sales can makes turkey-carving moms and apron-wearing dads turn into deal-hungry monsters who line up for hours outside superstores and fight each other for a flat-screen TV. But with a little bit of preparation, you may be able to avoid the mayhem and even fare better than those rising before the sun.
Scouring the the flashy Black Friday ads will only get you so far in finding the best prices. Here are some tips and tricks to follow if you'll be trudging through the mall early in the morning instead of nursing a Thanksgiving hangover at home.
Don't Forget Pre-Black Friday Deals
When retailers publish previews of their deals, it's easy to skip right to the Black Friday pages and right past the sales offered in the weeks before. Not many people will take notice of these, so it'll be easier to get the best prices before items they're sold out — plus, you can avoid the hoards of shoppers you'd see Friday. Check out early Black Friday deals that are already available at Amazon, Best Buy, and Walmart.
Price Check Before You Buy
It's easy to get drawn in to a deal that looks good on the surface, only to see later that a different store was selling the same TV at a better price. If you know what you want before you head out, it's easy to look up the item in a search engine and see where else is offering it. If you're already out, there are sites like pricegrabber.com, and phone apps that allow you to scan bar codes and QR codes with your phone, and then quickly find out if you're getting the best price.
Download Black Friday Apps
If it's not appealing enough to just carry around your phone instead of a stack of newspaper ad clippings, some retailers will offer deals that are exclusively available on their apps. These apps can also be a quick way to access sales information throughout the day, so you can score a doorbuster as soon as it's announced. Walmart's app is complete with a floor map of your local store so you can make the most of your time. You can check out deals at a number of stores without having to physically go to each one to check if they have worthy prices. Your legs will already be tired from running around all morning, so you might as well chill and save the post-Thanksgiving cardio for a later date.
Find Out Return Policies
Retailers know shoppers enticed by Black Friday sales will be too enamored to pay attention to policies that don't allow returns or limit them to a few weeks after purchase. So before heading to a store, it's smart to ensure that you're able to return an impulsive purchase, or that your hard-to-please friend can return your holiday gift at a later date.
Know What to Buy Later for Cheaper
Not all items are going to be at their best prices on Black Friday. There's still plenty of cold weather left, so winter jackets and heavy sweaters are likely not to be on sale when shoppers will be buying them regularly at full price. The need for holiday decorations is especially high at this time of the year, so the real discounts for lights and lawn ornaments will come in January. Don't get distracted by flashy signs — your favorite items may be even better buys at Christmastime.