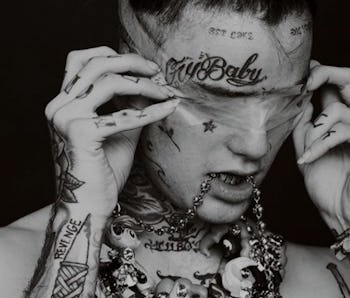 Science
How Did Lil Peep Die? Medical Examiner Suspects "Drug Overdose"
The rising young star died at age 21.
Instagram/Lil Peep
Rising emo-rapper Lil Peep died on Wednesday at age 21, his publicist confirmed to multiple sources early Thursday. Recognized as one of pop music's brightest new talents, the musician born Gustav Åhr, died before a scheduled concert in Tucson, Arizona.
His cause of death has not been confirmed, but a statement obtained by Inverse from the Office of the Medical Examiner in Pima County on Thursday, suggested that Åhr died of a drug overdose.
Ahr, 21, died on the night of November 15 in Tucson, where he was scheduled to perform a concert. While it is suspected Ahr died of a drug overdose, it will be six to eight weeks before toxicology test results are available to definitively determine the cause of death.
Early on Thursday morning, The Guardian reported that Åhr's manager, Adam Grandmaison, says that Åhr died of an overdose after being rushed to the hospital. According to reports from local Tucson TV station News 4, police there confirmed that they responded to a call regarding a drug overdose on the bus, but the name of the victim has not been confirmed.
His manager, Chase Ortega tweeted, "I've been expecting this call for a year. Mother fuck." Ortega made his account private afterward.
In an Instagram video he recorded on his tour bus on Tuesday night before a scheduled concert in Texas, Åhr said, "El Paso, I took six Xanax and I was lit. I'm good. I'm not sick. I'mma see you all tonight."
Xanax is an anti-anxiety prescription drug that's become ubiquitous in pop music through songs such as "Xanny Family" by the trap artist Future and "Mars Xannies" by Lil Uzi Vert and Maxo Cream. While the drug has a high potential for abuse, fatal overdoses on the drug are not common when it's taken alone.
When it is involved in a fatal overdose, it's usually because it was combined with other depressant drugs, like alcohol. Together, the depressants slow the heartbeat and breathing rate to a point that the body can no longer sustain itself.
Åhr was frank about his drug use and his problems with it. He told Pitchfork in an interview in January that he has struggled with drug use as well as suicidal thoughts, confirming what was already clear through his song lyrics.
His willingness to be vulnerable and forthcoming with his substance abuse problems and mental health issues is thought to be what allowed him to forge such an intense relationship with his fans.
In an interview with the New York Times, he said that his fans told him his music stopped them from committing suicide, and that "music saved my life as well."
A controversial though well-loved figure in pop music, he was best known for his half-rapping, half-singing style, which he used to great effect on songs largely centered on depression, addiction, heartbreak, sexuality, and suicidal thoughts, like "White Wine" and "The Way I See Things." His first full album, Come Over When You're Sober, was released in August, following the success of his debut mixtape, Lil Peep Part One, which was released in 2015.
This story is still developing.