For Black Friday, Cards Against Humanity Wants to Save America from Trump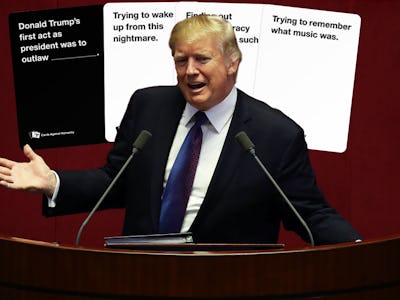 Getty Images / Chung Sung-Jun
In the past, the Chicago-based developers of the party game Cards Against Humanity have pulled off stunts like spending $150,000 to dig a hole for no reason and buying up pieces of Maine and calling it "Hawaii 2." Now, for Black Friday — a time of year the company loves to troll IRL — Cards Against Humanity have directed their aim towards President Donald Trump in a stunt that could make it much harder for Trump to build his Mexican border wall.
On Tuesday, the company announced it had purchased "a plot of vacant land" on the U.S./Mexican border, and hired an eminent domain law firm "to make it as time-consuming and expensive as possible for the wall to get built."
"It's 2017, and the government is being run by a toilet," reads the promotion's mission statement. "We have no choice: Cards Against Humanity is going to save America."
On its website, Cards Against Humanity is offering a Black Friday gift set of "six surprises" for $15, which will be delivered to buyers in December. As always, the Chicago jokers are keeping close to the chest what the surprises are.
In addition to the mystery, the $15 purchase will also contain a map of the land they bought, "a certificate of our promise to fight" on behalf of said piece of land, and some new playable cards for the signature game.
In an explanation video that also spoofs Ken Burns documentaries, the game is also giving those who buy into the promotion a piece of the land, which it explains (in a manner that is both joking and also deadly serious) that the U.S. government would have to take every individual into court in order to further construct the border wall.
"There's no time for questions," the website says just above the Frequently Asked Questions section. "Now is the time to act. You give us $15, and we'll send six America-saving surprises right to your doorstep. It will be fun, it will be weird, and if you voted for Trump, you might want to sit this one out."
Historically, Cards Against Humanity has extended its brand of irreverent humor (the popular game's slogan is "A party game for horrible people,") into the real world.
For Black Friday 2014, the company offered another mail order surprise, priced at $6, which wound up being bull feces. As in, people spent six dollars on actual bullshit.
In 2015, the game's Thanksgiving sale was $5 for "literally nothing." No, it didn't end up as a five-dollar discount on the game, which retails for $25. The game makers raked in over $71,000 from its $5 "sale."
Then, in 2016, when Trump was elected, Cards Against Humanity went nihilistic and dug a $100,000 "Holiday Hole" in an empty lot in Illinois. In the FAQ section, the company said "no" to the question "Is there some sort of deeper meaning or purpose to the hole?"
Now, it seems Cards Against Humanity has recognized its unfathomable power — it once also raised a $500,000 scholarship for women in STEM in 2015 — and is directing its energies towards a greater cause, one joke at a time.