The 5 Best Deals Microsoft Has for Black Friday on Tablets, Xbox, and More
Better yet, these sales will be available online.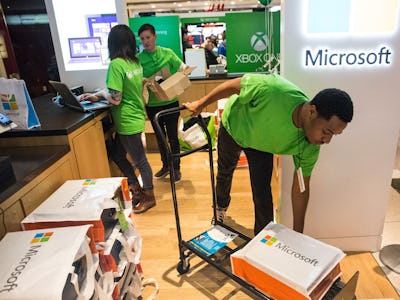 Getty Images / Andrew Burton
Instead of getting into physical fights with the throngs of shoppers on Black Friday, why not race them in your pajamas from the comfort of your own home? Electronics are a major source of sales during the post-Thanksgiving holiday, and people go crazy for rare discounts on products from tech giants like Apple, Google, Samsung, and Nintendo.
While many are guaranteed to flock to Best Buy, Walmart and other superstores for deals, Microsoft is one of those companies making their Black Friday sales available both in store and right on their website. The company has teased deals on some of its signature laptop and gaming consoles, as well as HP and Dell products that run the Windows system. Some of Microsoft's discounts are available as soon as November 19, so find out about the best deals they're offering.
5. Mixed Reality Headsets
Microsoft has come a long way in gaming technology since the original Xbox was released in 2001. Mixed reality headsets have become a way not only to enhance video games, but also to sell people once-in-a-lifetime experiences and impossible dreams. Microsoft is offering up to $100 off its mixed reality headsets, which come with motion controllers that let the user interact with the virtual environment. Headsets start at $299 and come from five different manufacturers: Windows, Samsung, Lenovo, Acer, and Dell.
4. Smart Voice Assistant Speaker
In its own version of the successful Amazon Alexa and Google Home products, Microsoft's Harman Kardon speakers will be 50 percent off and cut to $100 for Black Friday. These speakers boast 360 degrees sound and are powered by Cortana, the voice-activated intelligence system that plays music, checks the whether, and make Skype calls. The speaker can also be synced with your other smart home devices to control the lights and temperature, Microsoft says.
3. Gaming Laptops
Microsoft is appealing to gamers this Black Friday and highlighting a bundle deal of an Acer gaming laptop and Acer mixed reality headsets for $999. These would regularly cost $799 and $399, respectively. Gaming laptops appeal to the most serious fanatic, because they come equipped with a cooling system that's much more effective than in regular laptops, meaning gamers don't have to worry about their laptops overworking and overheating while they play. For those who are not interested in the bundle deal, there are also Dell gaming laptops sold for $649, $150 off their normal price.
2. Surface Pro Tablets
The fifth generation of the Surface Pro laptop-tablet hybrid was introduced in June, and Microsoft is using Black Friday to drop a few hundred dollars off them and maybe try to buck its less-than-promising Surface earnings seen this year. Microsoft is offering customers $329 off 256GB models and $229 off 128GB models. The newest Surface Pro has all-day battery life, Microsoft says, and the Black Friday purchase includes a type cover (the detachable keyboard that converts it into a laptop) and a three-month trial of Adobe Creative Cloud.
If you're looking for other laptops, Microsoft is also selling version from HP and Dell with savings ranging from $200 off to $500 off.
1. Xbox One S Consoles
Rounding out Microsoft's gaming-focused sales are significant discounts on Xbox One S consoles. If you're not trying to spend $500 on the just released Xbox One X, then a Xbox One S console with a wireless controller for $189 should be more appealing. While Best Buy and Walmart are selling these same systems for the same price on Black Friday, buying from Microsoft includes some perks: a free video game, a one-month trial for Xbox Game Pass, and a two-week trial for Xbox Live Gold.
Please note the links in this article have been autonomously chosen by our editorial team, and Inverse may receive a portion of sales.